I have written so much on trees in the city, but my warnings and advice continue to fall on deaf ears.
During the month of April with so many visitors around, many of them voiced their concerns and opinion on the state of the city's trees. At various functions I attended, citizens added their concerns too.
One of the things that upsets them is the painting of tree trunks with oil paint. No where else in the world is oil paint used on the tree trunks. The outer trunk protects the trees. Oil paint is loaded with chemicals. These chemicals will eventually destroy the protective bark on the outside of the trunk. The tree will eventually die.

Who gives advice to the city on its trees? Where are all the agencies like the Environmental Protection Agency, the Ministry of Agriculture, the Horticultural Society, the National Parks Commission? Who is looking out for these trees?
We need the trees. We cannot live without trees. One tree provides oxygen for four people. It cleans the air and gets rid of pollution.
The trimming of the trees is another drama all by itself.
Let us, as a nation, raise awareness of how important these trees are to us. Let us show that we care and protect our trees. I urge you to plant more trees. Generations to come will thank you.  The more trees we plant, the more clean air we would have as we promote a green Guyana.
Until next week, Happy Gardening.
Comments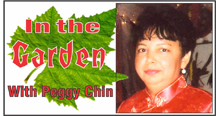 Now is the time to stake your plants! Last Sunday, the heavy rain came and it became so windy that many of my trees and shrubs were swaying in all directions. 

Over the years, I have experimented with and grown various types of roses: Dutch, English, American and tropical.

Years ago, climbing roses were among the most precious flowers to adorn a garden.

Continued from last week Miniature roses are most likely descendants of the old Chinese rose Rosa chinensis. 

Continued from last week This week, we will look at Floribunda roses and Hybrid Tea roses.