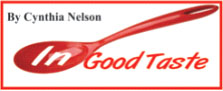 Melons of all sorts are in season and coming in to season. It is nature's way of telling us to keep hydrated during the hottest months of the year. While this cooler can simply be pureed in a standing blender, there are a few little things that can be done to make it even more appealing.
For example, depending on whether or not the fruit is sweet enough for you, a touch of lime/lemon infused simple syrup along with a slice of lime/lemon makes it even more refreshing. Vodka, rum and various liqueurs make for cocktails that can sneak up on you. The addition of ginger, mint or other fruits such as pineapples and passion fruit complement this fruit very well.
Another little thing to do is to carve some melon balls, freeze them and then ….