Last week's performance of "Nothing to Laugh About 10" at the National Cultural Centre (NCC) seems to have sealed the issue about current audience choices in popular theatre in Guyana.
Trends take time to develop and to settle down, and patterns will have to be observed for a number of years before any conclusions can be drawn that anything can be called a trend. Since the development of local theatre performing for and appealing to a local popular audience in Guyana in 1981, the trends have changed almost decade by decade.
"Nothing to Laugh About," a popular comedy show created by Maria Benschop, is now 10 years old and  celebrated its significant anniversary with the 2017 edition of its series of annual productions, which was directed by theatre personality and filmmaker Kojo McPherson. It was significant for a number of reasons. There is the superficial one – that 10 is a magic number with a special ring to it and everyone is highly ecstatic about a tenth anniversary. Then, to have sustained an annual event for 10 years is an achievement in itself, but Benschop should have more reasons to feel that this one is indeed an achievement.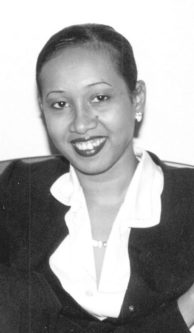 The production has decidedly improved in quality as a stage production over that period.  Benschop, even before now, has earned for herself a place as one of the established contemporary theatre producers for the popular stage in Guyana. She has been involved in at least one other popular annual production series. The show has kept a very loyal audience who found almost immediately a source of entertainment that they could live with. What is more important, is that the show has settled down into a shape in content and structure that works on the stage.
The most important elements in this anniversary production include the fact that 10 years is adequate time to indicate that a trend has developed. It is now quite obvious that the multitudes in the popular audience have chosen comic performances as offered by stand-up comedy in the annual show "Uncensored," and the comic farce, styles of laughter and stand-up comedy as offered in "Nothing to Laugh About" as their favourite theatre. These are the shows that are guaranteed sold-out status at the box office.
For several years running over from decade to decade "The Link Show" broke the records as the theatre event of the year with its sustained popularity and eventual success as an annual satire. A new production that seeks to replace it and continue its tradition did not match the overwhelming turn-out of previous "Link Shows" or the sustained attraction of "Nothing to Laugh About". It became clear during the past decade that "Uncensored" by Lyndon Jones had ascended to the position as most popular. The show suffered a bit last December when it had to move from the Cultural Centre, whose stage was under renovations, to the outdoor setting of Giftland Mall. As if that were not enough to retard numbers, it was plagued by the rainy weather.
Nevertheless, it was still clear that these two shows produced by Jones and Benschop were the definite popular choices on the local stage, and that the trend had settled down to a decided ascendancy of stand-up comedy and farce. Guyana is not alone in the exalted place of farce in the popular theatre, as that has been the trend around the Caribbean for decades.
The 1980s in Guyana saw a switch from the amateur theatre of the Theatre Guild to the commercial possibilities at the National Cultural Centre. Leon Saul was at the front of that charge with popular drama at the NCC, while Ron Robinson and Gem Madhoo followed there with the creation of "The Link Show". This triggered off a new popular trend with a larger, more grassroots audience flocking to the theatre as local Guyanese drama took off.
The trends were to shift occasionally. There was the period of mystery, horror, spirit possession and obeah, and a strong influence of the popular cinema in Guyanese plays. There was the ascendancy of foreign murder mysteries of the brand of Agatha Christie and Frederick Knott that filled the seats at the NCC. There was the rise of comedy, which followed a Caribbean-wise trend. Laughter began to command the audiences and dominate the stage.
Then there were periods when audience numbers dwindled, perhaps because of the lack of anything new and particularly stimulating. At those times, even humour took a beating at the box office. Then came the wave of new playwrights with an interest in intriguing domestic situations and the dark side of human duplicity. There was the definite preoccupation with social realism as troubling social issues interested the new dramatists.
It must be pointed out, however, that while these new works created a buzz in Guyanese theatre, those plays did not generate hurricanes at the box office. Comedy was waiting in the wings to rise again, and it did to the point where only the satires and the slapstick sold out.  Stand-up comedy surged confidently to the front as did the roots-type theatre.
Benschop had to grow during the ten years of this comic show. It was popular, but not always good theatre. But her attitude was commendable and her approach sensible. She was able to bring in competent collaborators and introduce better stage-craft. Along the line she linked with Jones and "Uncensored". Her production improved and climbed away from its many early artistic problems to what it has been in more recent years, and what it demonstrated in 2017.
In this version directed by McPherson There were several skits of mixed quality, but an overall show that was very effective in its appeal to the audience, suggesting that the production knew how to reach its audience. The large multitudes who filled the auditorium extracted every grain of laughter out of the performance. The performance itself was a mixture of farce, slapstick, lampoon, take-off, camp and commentary. The audience found particular delight in these forms, especially slapstick and camp.
As one always finds in shows of this type, there were skits that were drawn out rather than sharp, those whose punch-lines were damp fuses. However, what was very notable in this production was the rise of satirical material. The political reach of the commentary was more varied and fairly distributed as a few good pieces of political satire surfaced. Similarly there were social comments that were worthy and certainly increased the content of the show.
What is more, there was a workable structure which took advantage of the presence of some stand-up comedians in the cast. One by one they appeared immediately after a skit in which each was involved and somehow managed to link the content or subject or topic of the skit into their comic routine. This raised the quality of the show as a continuous whole.
It helped also that they were good comedians. Jones may be regarded as the best in the business locally – a long journey from his fledgling nights at the Upscale Restaurant. Leza Singh as her stage personality Radika from Parika Backdam was equally on form and was willing to take risks as a social satirist added to her ability to keep in character as an actress. Chris Gopaul's appearance here confirmed his recent defined rise to a higher level as a comedian.
The performance was always up to audience entertainment as the actors and actresses engaged in camp and lampoon to satisfy the crowd. There was a sense of audience presence and the approach was one fully conscious of audience involvement and interaction. This was a high point of the production. It was well stage-managed and moved smoothly at a brisk pace.
The thing about this kind of theatre is that it is of the roots variety. It is somewhat like the deepest roots theatre of Jamaica and the brand of it seen in Guyana from Parika and Linden. It is a cultivated brand of audience-driven theatre designed to elicit laughter and is not high drama or the tragic form. This kind of performance requires different yardsticks and modes of assessment in order to appreciate its popular value.
These, and the demonstration of the current trends in Guyanese popular theatre are factors that this very effective production of "Nothing to Laugh About" reminded us of.
Comments

Popular literature is an important and substantial study. It is a genre whose international impact is astounding.

At this time in Trinidad and Tobago the festival of Ramlila (called Ramleela there) is very widely celebrated.

How can anyone forget the magic of that childhood realm called  "on the way home from school…"?


A very significant factor in Carifesta is literature. A meaningful study of this regional cultural festival is a lengthy and complex undertaking that will require many revisits, including its treatment and representation of the region's literature.

Flame-Heart So much have I forgot in ten years, So much in ten brief years.