As she stood on the public byway and shared condoms to passersby, Juanita Burrowes was in earshot of a 'cuss out' between two neighbours and shockingly heard one accuse the other of allowing her partner to sexually abuse her young son.
Burrowes immediately got into action. Abandoning her box of condoms, she marched into the shop used as the 'cuss out' vantage point by one of the women and called her out. A conversation followed and the child in question was sought. Within minutes of this encounter, the child and his mother were driven to the police station and later child care officials got involved.
"I asked her to take off the child's diaper and immediately I knew something was wrong. I told her we're going to the police station even though she was trying to tell me nothing happened. But I did what I had to do and I did what was I knew was right," said Burrowes.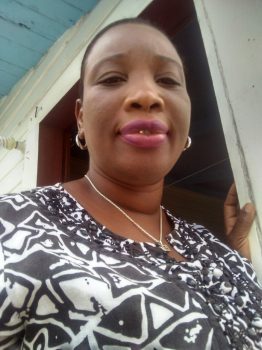 That is the modus operandi of Burrowes. She does it even when it poses a danger, as occurred recently, where she was hit in the head and face and had her car mirrors broken by a mentally ill patient she had taken for treatment at the Canje Psychiatric Hospital.
"I took my cuffs and so because it was not her, it was the way the social worker responded when I took her. You know you can't say certain things because it [might act as a] trigger… and she said 'Oh God Juanita is whey you get this one from?' By the time she said that is punch to me and the lady ended up breaking up my mirrors. I had to end up spending about $70,000 to get back stuff for my car…"
Burrowes is the head of the non-governmental organisation United Bricklayers which operates out of the town of New Amsterdam. The name signifies building a community because as they "lay the bricks we are laying the foundation for our future," she said.
"I am a people builder. I bring out the best in people, the positive side of them," was Burrowes' chosen description of herself in a recent sit down with the Sunday Stabroek.
Her years of working with some of the most vulnerable have allowed her to see some of the best and worst of human beings, but she vows to continue her work because as she sees it one person helped can only mean that society will be "a little better."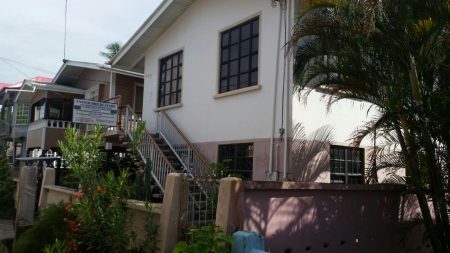 Many times the road has not been easy and she has questioned the impact of her work, but when she remembers the over 400 children the organisation managed to assist in removing from the streets, she knows she and her volunteers have to continue to join forces with others to give assistance where needed.
For her the biggest hurdles are faced when dealing with the system that is supposed to help the vulnerable but instead fails them. The child referred to at the beginning of this feature is back in the same environment.
"I can't understand that," she said. "When he was taken to the hospital it was proven that he was being sexually assaulted. I keep asking questions but they are telling me the file is with the DPP [Director of Public Prosecutions] and that is it… I am not giving up I am still trying but sometimes it gets very frustrating."
Her frustration also comes from officers making snide remarks about her qualification, or lack of same, to victims she would take to them for assistance.
Burrowes is not university trained in her field, but there is no gainsaying her passion and heart to help others. "And I was trained by many organisations including international. I don't allow what they say to get me down but it is just sometimes it can be frustrating," Burrowes said while pointing out that United Bricklayers over the years has received funding from international agencies including the Global Fund to Fight AIDS, Tuberculosis and Malaria and the United States Agency for International Development (USAID), which is testimony to the work it has done.
She said there have been cases where referrals sent to local agencies were dumped in the garbage bin and other instances where she was asked, 'Whey you finding all dem work dis?'
She said it saddens her because her NGO is working to empower communities and needs to network with government agencies. "When you cannot get that collaboration it really hurts you because united we stand divided we fall," the NGO head said passionately.
Attempts to bring the issue to the attention to those in higher authority have not been successful, she said as there are instances of "trying to paint a picture instead of listening and trying to correct the situation."
However, Burrowes said, United Bricklayers' relationship with the Guyana Police Force "is excellent."
My school friends died
Her childhood was not easy, but Burrowes said seeing many of her former school mates dying of AIDS propelled her to start volunteering with Comforting Hearts, a Berbice-based NGO focused on supporting families affected by HIV/AIDS through physical, social, spiritual, and psychological care and support services and education.
"Some of them were pretty young. Some got into sex work, and at that time the HIV and AIDS awareness was not as open as it is now," Burrowes said adding that many of them had turned to sex work because of poverty.
Even though her childhood was tough, Burrowes said, her mother has always been the shining star in her life and whenever she 'stole' their foodstuff to give to persons who did not have her mother never complained.
And so when she wanted to use a brand new building her mother had constructed as the base for the organisation she wanted to form, there was no argument as her mother knew she just wanted to help the most vulnerable.
United Bricklayers was formed in 2007 and Burrowes said she has received tremendous support which has seen the organisation remove 466 children, who were neglected by parents and family members or whose parents died, off the streets. They have been placed in orphanages and foster care even as the organisation continues to monitor their progress.
In 2009 United Bricklayers received funding to the tune of $10 million from USAID, which was for its HIV and AIDS care project and working with men who have sex with men and sex workers. This project resulted in behavioural change in the community and some of the assisted persons entered the mainstream job market.
As regards the 466 children, she said, "We were able to change the lives of many, many young people. We were able to get some of them into jobs and that was not funded. We provided hot meals for them, along with school supplies. We received great support from overseas-based Guyanese Data Bacchus who would provide rice, school supplies and whatever items we needed for the children."
Burrowes said relatives and friends were also very supportive of the project.
Included in that 466, which was during the period 2009 to 2014, were some teenage mothers and Burrowes said that they are continuing to support them. Some of the children have since written the Caribbean Secondary Education Certificate examinations and others have gone as far as furthering their studies at the University of Guyana and other tertiary institutes.
"It has been excellent and that is what makes me happy and keeps me going, to see young people given a second chance, and despite right now we are not getting any proper funding it still does not demoralize me from continuing my work. If can help you for today, just you, that's what makes me happy," the passionate woman said.
At present, the organisation is a sub-recipient of funding from the Global Fund specifically for an HIV prevention programme with most at risk populations.
Mental illness
But Burrowes' work is not confined to the above mentioned areas, the organisation also assists with psychosocial counselling of persons who are suicidal and helping those who have mental illnesses to seek treatment. Work is also done with persons who suffer from gender-based violence.
While their scheduled working hours are Monday to Friday, Burrowes said many times the organisation is open seven days a week because once persons walk in they are not turned away. She lives in the same compound of the office and finds it hard to turn away persons in need of help, even those who are seeking marriage counselling. She does this at the risk of her own well-being at times and in recent times was forced to take stock and care for herself as she faced health problems.
"So I know now I have to take care of myself because if something happens to me I can't help anyone…," Burrowes said.
Currently the United Bricklayers is working with a group of young men and women to make them majors and majorettes as they seek to provide positive ambassadors for the young.
"No matter what, I am going to keep on working with my organisation because I am working with the people and I have impacted their lives and that is what makes me happy, the humanitarian work," Burrowes said of her future.
Around the Web