Once upon a time you dressed so fine
You threw the bums a dime in your prime, didn't you?
People'd call, say, "Beware doll, you're bound to fall"
You thought they were all kiddin' you
You used to laugh about
Everybody that was hangin' out
Now you don't talk so loud
Now you don't seem so proud
About having to be scrounging for your next meal

How does it feel
How does it feel
To be without a home
Like a complete unknown
Like a rolling stone?
You've gone to the finest school all right, Miss Lonely
But you know you only used to get juiced in it
And nobody has ever taught you how to live on the street
And now you find out you're gonna have to get used to it
You said you'd never compromise
With the mystery tramp, but now you realize
He's not selling any alibis
As you stare into the vacuum of his eyes
And say do you wanna make a deal?
How does it feel
How does it feel
To be on your own
With no direction home
Like a complete unknown
Like a rolling stone?
You never turned around to see the frowns on the jugglers and the clowns
When they all did their tricks for you
You never understood that it ain't no good
You shouldn't let other people get your kicks for you
You used to ride on the chrome horse with your diplomat
Who carried on his shoulder a Siamese cat
Ain't it hard when you discover that
He really wasn't where it's at
After he took from you everything he could steal
How does it feel
How does it feel
To be on your own
With no direction home
Like a complete unknown
Like a rolling stone?
Princess on the steeple and all the pretty people
They're all drinkin', thinkin' that they got it made
Exchanging all kinds of precious gifts and things
But you'd better take your diamond ring, you'd better pawn it babe
You used to be so amused
At Napoleon in rags and the language that he used
Go to him now, he calls you, you can't refuse
When you got nothing, you got nothing to lose
You're invisible now, you got no secrets to conceal
How does it feel
How does it feel
To be on your own
With no direction home
Like a complete unknown
Like a rolling stone?
         Bob Dylan
This is a celebration of American singer/songwriter Bob Dylan and the fact that he, who has been described as a folk singer, a protest artist, a pop singer, a rock singer and even a rock star, was supremely distinguished by the award of the Nobel Prize for Literature in November 2016.
This is the most revolutionary and perhaps the most progressive award of the Prize by the Swedish Academy. It is the first time a songwriter has been given the award and the first time the Academy has so recognised work mostly regarded as being a bit outside of the literary mainstream.
There is a little argument that Rabindranath Tagore was quite a songwriter when he won the Nobel.  But Tagore's award recognised him as a poet, and it was his foremost collection of poems that most influenced the decision – he was India's greatest poet and playwright, and the first non-European to win it.  Yet, even so, the reference to Tagore bears relevance because the Indian writer placed much emphasis on music in his poems, as is very evident in the musical quality of Gitanjali.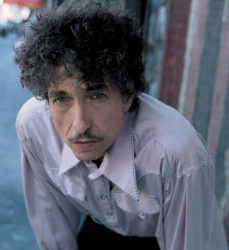 Dylan's career, however, has been in music. He is acclaimed throughout the world as a musician, renowned in the areas of popular music, received his fame from the pop charts, held on to by Columbia Records as their most valued prize,  as a performer who has been always on tour. His achievements have included 10 Grammy Awards and an Oscar for Best Song. Yet among his most prestigious awards were the public honours he received from two US Presidents – Bill Clinton and Barack Obama – for his social commentary and impact made through music.
A most significant element in all of this, however, is the poetry, Dylan as a poet. That must have been very instrumental in the thinking of the Swedish Academy. It is at first an acceptance of the songs he has written as belonging to the corpus of American Literature. That the kinds of folk genre, the ballads and lyrics earn a place in contemporary literature because of what they contribute to the genres and their treatment of themes and issues. Dylan has certainly been the most influential and among the greatest contributors to protest music, added to the timeless/ageless impact of the songs that have never faded after decades – much like Bob Marley. The Swedish Academy has accepted these as literature.
Dylan said in his Nobel Lecture (his Acceptance Speech) read by American Ambassador to Sweden Azita Raji:
"Being awarded the Nobel Prize for Literature is something I never could have imagined or
seen coming. . . . I began to think about William Shakespeare, the great literary figure. I
would reckon he thought of himself as a dramatist. The thought that he was writing literature
couldn't have entered his head. His words were written for the stage. Meant to be spoken not
read.  . . . I would bet that the farthest thing from Shakespeare's mind was the question 'Is this
literature?'
 "Some things never change, even in 400 years.
"Not once have I ever had the time to ask myself, 'Are my songs literature?'
"So, I do thank the Swedish Academy, both for taking the time to consider that very question,
and, ultimately, for providing such a wonderful answer."
Although Dylan is a performer and has always been in consistent demand for tours and concerts (so much in demand that he did not have the time to attend the Nobel Banquet) his highest achievement is as a writer. He has been exceedingly effective as a singer but his harsh, unpolished voice has never been described as excellent. Several of his songs have been covered by the foremost accomplished singers. The works have been internationally outstanding as written literature.
The Academy's citation said Dylan was awarded for "having created new poetic expressions within the great American song traditions". The Guardian quoted the Swedish committee as adding that they consider "Bob Dylan as a great poet – that's why we gave him the prize. He's a great poet in the great English tradition." He was compared to Milton, Blake and Homer. The writer himself acknowledged that he could see some of his songs fitting in "the Homeric tradition".
He surely merits a comparison with T S Eliot. In 1922 Eliot's The Wasteland changed the course of poetry forever, and is sometimes considered the greatest, certainly the most influential poem of the 20th Century. It established the place of modernist and free verse against previous standards of metre, of 'verse' and of 'the poetic'. In similar fashion, Dylan's 1966 classic "Like A Rolling Stone" is the most influential, some say the greatest popular song of the 20th Century because of the way it changed the contemporary notion and re-charted the way for what could be accepted as popular songs in the folk, rock and pop traditions. It also added significantly to contemporary American literature. And to multiply all of those, it is excellent poetry.
The lyrics are profound, although the subject and statement might be a bit questionable. Other Dylan songs are immediately seen as thematically more weighty and making important national statements. Examples of these are "Blowin' In The Wind", "The Times They Are A'Changin", "Knockin' On Heaven's Door" and "A Hard Rain's A-Gonna Fall". Among those lyrics one finds protest, national social and political commentary, and a hard, critical assessment of the American nation, of the world and of mankind. Note, too, his innovative use of the language of the American folk.
"Like A Rolling Stone" has some of that, but on the surface is a rather uncharitable, unsympathetic and—some felt at the time of its release—cruel putting down of a woman fallen from grace and fortune. However, it brings to mind critical approaches and philosophies such as existentialism, a bit of the Freudian and even of the Marxist. It analyses the darker side of humanity and exhibits a tragic sense in depicting the fall of hubris. It also comments on the nature of the materialistic and uncompromising capitalist society.
The song mixed traditions, the folk, the tragic ballad, and rock (the style in which Dylan performed it), breaking out of the confines within which popular music on the charts previously lived. At 6 minutes long, it was much longer than the norms (3 to 3½ minutes). It was heavily poetic and different in tone, bringing folk, poetry and traditional forms into the popular music. The 'Heaven's Door' was opened for such others as Procul Harum, Manfred Mann, Nina Simone, Paul Simon and The Beatles (even after they went their separate ways). Add to that, Dylan's influence on protest songs and the humanitarian consciousness and resistance to atrocities against humanity.
The poetry of "Like A Rolling Stone" is profound. It is modern free verse with a consistent rhythm.  The occasional rhymes are easy and help the ride on the rhythm. He uses a very effective internal rhyme. The images are skin tight and such paradoxical lines as "the frowns on the jugglers and the clowns" and the danger of letting "other people get your kicks for you" are really insightful, thorough observations of humanity expressed in deep poetry.
Around the Web