The staging of a production titled Sociarama by Lloyd n De Arts Production at the Theatre Guild Playhouse at the end of January, provided a good opportunity for a review of the state of drama in contemporary Guyanese society. It allowed a reflection on the recent trends, new developments in the theatre and on the concerns that some of these have caused.
These trends have included the continued dominance of popular theatre and the consistent popularity of comedy and comic performance.

However, in more recent years, there has been the rise of social realism. There has also been a noted increase in plays that departed from the previous practices to engage newer and post-modernistic theatre forms.
Both the dominance of comedy and some of the social realism have given rise to an outpouring of worry and concern because of increasingly graphic content that many persons feel threaten to corrupt social morals.
Sociarama: An Evening of Poetry, Dance, Dance-Drama and Music was a significant intervention into that debate and was very relevant to the thinking occasioned by the trends and the complaints that they evoked. Everything about the production emerged out of the most recent trends and development to produce theatre that is a reflection on the state of the art in Guyana today. What is more, it was a production deliberately designed to address the most urgent of the worries and concerns.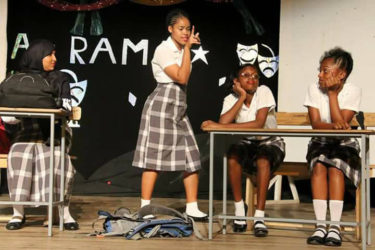 Lloyd Thomas, who directed the show, is the founder and leader of Lloyd N De Arts Production.  His background and experiences are very relevant to all of this. He is a product of the National School of Theatre Arts and Drama (NSTAD), a member of the National Drama Company (NDC), and a drama teacher at St Joseph High School, who won prizes for Best Production and Best Director in the National Drama Festival (NDF) when he entered the school play done by his Caribbean Secondary Education Certificate (CSEC) class.
The name of the group or company is very inconsistently written in the printed programme provided for the show. They call themselves variously "Lloyd N De Arts Production" and "L' arts". Apart from Thomas, it is also significant that the members include NSTAD graduates Ackeem Joseph, Kimberly Samuels, Frederick Minty and Tikoma Austin. Also that Joseph and Samuels are NDC members as well as NDF Best Actor and Actress. The production also included Kefa Smith an NSTAD student, Shontel McLean, an NDF Best Actress and Oteifa Joyce a former drama student in the St Joseph CSEC class. Quite importantly, it was stage managed by the current CSEC students who are studying Theatre Management for their exams this year.
Sociarama offered theatrical variety, but was an overall neatly incorporated dramatic performance very effectively and seamlessly integrating a number of performing arts – drama, acting, dance, dance-drama, performance poetry, singing and music. It was generally good theatre and most definitely a piece of edutainment. Drama was used in an attempt to educate the audience about a number of social ills. Messages were intended, if not always morally clear.
Sociarama started off introducing itself and the company with a sound, interesting prologue. It was dramatic, and well-paced, making use of group choral speaking and a chorus. Despite being sharp, the quality of speech was recitation – a kind of learnt delivery which was natural.
The highlight of the presentation was excellent dancing for which credits were given to Maresha Arthur, a member of the National Dance Company who was listed as the main choreographer-dancer. Other cast members were also obviously proficient in dance, which was satisfactorily integrated with the dramatic pieces and the acting. Some of the singing – notably Samuels – also stood out although singing was not uniformly good. The skits were of mixed quality, ranging from the good to a few that were outstanding.
These dealt with issues affecting people and generally took a very critical look at the society.  Human behaviour was adequately covered. Some skits examined mental problems, with some of the horrors of insanity and the vagaries of the mind. While some of these were fairly abstract, some chose explicitness including in the treatment of peer pressure. Here quite good acting made strong statements about resolute and confident rejection of succumbing to the pressure from false friends to be tempted into errant behaviour.
Several other social ills and issues were either satirized or critically portrayed, including racism, prejudice and intolerance; sexuality, sexual orientation and homosexuality; infidelity and the abuse of drugs. One notable dramatic technique used was the form of the morality play with characters being lured, torn between evil and salvation.
Particularly depending on the audience in this theatre, there are times when a clear message or statement is needed. In this performance that was often, but not always achieved.  Some resolutions were strong and statements effective despite the occasional resorting to deus ex machina.
All told, Sociarama was very important edutainment because of its timing, its place in the present climate of concerns and the way it forced critical thought in the mind of the audience.
It makes an impact because of the concerns that the popular preference for comic theatre lowers standards and poses serious threats to the survival of what is considered 'serious theatre'. There are complaints about the over-sensational, too much sexual content, cursing and violence. These are seen as negatively influential and corrupting, encouraging breakdown in the social order with no positive or redeeming messages.
Most of those concerns are hasty. Sociarama, however, should be one example of theatre that treats these issues while moving in the right direction. It joins those new plays that are increasingly examining the society and exposing its weaknesses. It also helps to belie the feeling that comedy cannot be serious theatre. Laughter was often used in the production to effectively point to places where the social contract breaks down and recognizable statements could be understood.
To go further, the emergence of a production such as this is hardly surprising given the background of Thomas and some members of his company. Certainly their connections with NSTAD, with the NDC, the NDF and the schools' CSEC programme are not coincidental.
In the context of the contemporary state of local theatre, there have been significant changes achieved by those institutions. Persons who were trained in them, who have passed through them or who work in them have consistently demonstrated a tendency to positive theatre. There have been new injections into the NDF, which have inspired extensions of the frontiers of local theatre.
NSTAD has been exhibiting its policy and practice to train persons for this kind of contribution and it no longer surprises that persons coming out of that school would have the capacity to produce theatre that is innovative. Several examples of this has been seen on stage recently.
Like a number of others, Thomas has created the CSEC class in his school and collectively they have doubled the number of schools offering Theatre Arts at CSEC. The management of Sociarama was done by CSEC students for examination purposes. It was smooth and impressive, and speaks eloquently of the kind of work being done and which is being recognised here.
All the positive achievements of the production, and of the groups responsible for it are therefore not surprising at all.
Around the Web