Escape was a full dance production staged at the National Cultural Centre on June 10 last.  It was another in a long list of dance productions in Guyana, which add to the history of dance theatre here. But it was not just another production, it made notable statements about Guyana's dance theatre, popular dance and audiences in Guyana.
Over a period of less than twenty years, many private dance companies/troupes/groups have risen in the country, although many have faded. Many have attempted full productions and have aimed to make them annual. But just as

many have fallen off or faded into inactivity.
This has been a factor of the popularisation of dance tutorship in the nation since the 1970s and the steady increase in trained dancers as a result. The spin-off has been a wide interest in dance, its development as a performing art and the very large numbers of persons wishing to learn to dance. It also gave rise to the very significant questions about the audience for dance, which not only increased in numbers, but changed. One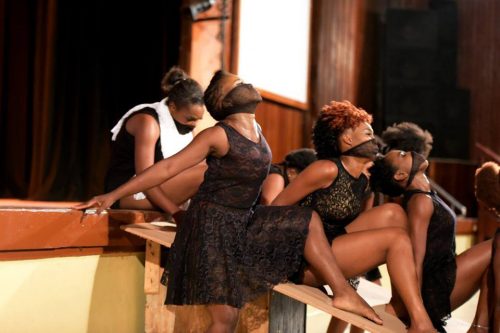 important constant over that period has been forms of Indian dance kept in constant practice by the Hindu religion.
Escape was a production of Free Souls Dance Theatre Company founded and led by Kijana Lewis. It has been in existence for a few years and recently ventured into staging full dance productions. That is a very exacting undertaking and makes demands on pretenders to stay the course.
Artistic Director Lewis is a former member of the National Dance Company (NDC) in which he made a meteoric rise to prominence as the leading male dancer in the country. He became very accomplished, quite dominant and extremely popular. During a career of some 10 years, he has represented Guyana at a wide range of events, occasions and places including Carifesta, the Inter-Guiana Cultural Festival and the varied engagements of the NDC. His experiences have stretched to Trinidad and Tobago, across the Caribbean and the USA.
Lewis is also a stage actor and also rose to national prominence in that field, winning several awards as Best Actor in festivals. A notable achievement was his creation of a one-act dance drama which won a place in the National Drama Festival (NDF).
The company members included some already established on stage and in dance: Maranda Drakes-Hudson, Radiante Frank, Paul Charles, Mwanza Glenn, Isaiah Luther, Fiano Spencer, Meleesa Payne, Nevon Arno, Lotoya Browne, and Onika Martin.
Having hoisted its sails in deep and open waters, it is interesting to follow the course and endurance of the Free Souls Company. One may speculate about its survival, but it already has a few years on its record. Escape was not just another show, but a presentation of a particular type and established a particular important relationship with its audience.
The notion of popular dance (on the formal stage) developed in Guyana in contemporary times.  Since the popularisation of training there has been a leaning away from classical dance, while modern dance has led off into many directions. Again, this is a bit different from the focus of Indian dance in which classical forms remain very high on the agenda.
Companies and choreographers seem more interested in the audience for the dance and considerably more of their work has been audience driven. Even the NDC has shown an interest in this over many seasons. The Classique Dance Company, while it operated, specialised in popular dance. This generated a very large popular audience and specifically advanced the field of popular dance.
As demonstrated in Escape, the Free Souls Dance Theatre Company seems headed down a similar path. The show was witnessed by a very lively and exceedingly vocal crowd – an audience that was distinctly partisan and overwhelmingly involved in the proceedings on stage.  The production catered for their tastes in the sensational, the topical, the humorous, the social and the familiar.
Along these lines, the second half of the show – "Second Block" – was very accessible to them as its design was quite audience driven. There were consistent exhibitions of popular dance. A typical example was the last segment, "Whores Gotta Live". In the theatre it was social realism, social commentary and treated topical issues. Its focus was sexuality, sexual orientation with a touch of gay rights advocacy.
In keeping with its subject, it was flamboyant. There was quite a bit of colour with appropriate costuming and geared for the delight of the crowd. This sequence had an interest in being tragic as its plot followed the journey of a male sex worker on the streets. There was topical interest in its treatment of homophobic intolerance and violence, prostitution and the transvestite. But it wanted to be entertaining and its endeavours to please the crowd and provide amusement overshadowed any intention of tragedy. Also of note is that it acted out its plot in scenes that were mimed rather than danced; so it was drama, but as dance, it did not do much.
The First Block – "Fantasy Over Reality" which attempted something similar, was sounder in all respects. For individual performance, the sequence belonged to Maranda Drakes-Hudson. She is a former member of the National Dance Company in which she built a substantial career as a dancer. She proved herself to be equally accomplished as a lead dancer and as an actress (she distinguished herself as both in a dance drama in the NDF).
Drakes-Hudson carried the dance drama "Fantasy Over Reality" in this production in memorable fashion. This sequence also contained a great deal of miming, but it was more successful as dance drama than "Whores Gotta Live" as most of the plot was carried by dance. There were effective utilisations of imagery, and symbolism in addition to the elements of realism.
The treatment and presentation of sexuality were more interesting and definitely more risqué than in the Second Block. Particularly striking were the excursions into the grotesque and the carnivalesque. These complemented each other adequately as the heroine immersed herself into the imagination seeking transformation into sexuality and desirable make-over. The performance text was fittingly charged with sexual image, but the fantastic carnival nature of it also featured the grotesque imagery which both enticed and repulsed.
Drakes-Hudson danced her way through it all with good support from actor Sean Thompson who acquitted himself comfortably among the dancing cast. There was also very good support from effective use of theatre space and set design, costuming and choreography in a memorable sequence on stage.
The Free Souls Company was not wanting in variety and showed off other different forms of dance and choreographies. The First Block was dominated by the works of Lewis with an input from Fiano Spencer who choreographed "Wreak". This was punningly juxtaposed with another work – "Weak", as the sequence of dances titled "Woman" looked to tell a woman's story as was achieved in "Fantasy Over Reality". The other part of the Block focused on "Man". The dances ranged from "Virile" suggesting the strong façade and popular male stereotypes as against other dances showing the "Underneath" as well as "The Fight Within" – a more vulnerable reality in the masculine identity.
The production was very conscious of its audience and at times had direct interaction with them.  But the response from the vocal crowd was far from reticent and did not have to await that invitation. They were highly entertained and kept up an unending running dialogue in the audience talk back tradition of Caribbean theatre. They found much to relate to in the stage offerings. This factor has now firmly transplanted itself from drama into the newfound phenomenon of popular dance.
Around the Web