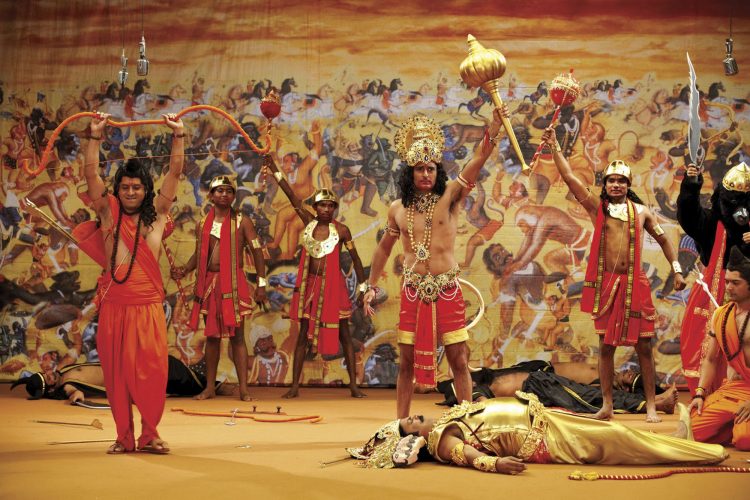 At this time in Trinidad and Tobago the festival of Ramlila (called Ramleela there) is very widely celebrated. This is an ancient Hindu tradition brought to the Caribbean from India by indentured servants, but its practice and customs are now firmly entrenched in a brand of Caribbean performance where it has survived. The Ramleela gains strength every year in Trinidad as one of a number of traditions in the weeks leading up to Diwali. But it is a strong festival on its own.


Of great interest is that this was once vibrant in Guyana. It ceased decades ago and faded away altogether, but research is incomplete and there is no reliable information to explain the reasons for this. Religious and performing groups have taken an interest. The Guyana Hindu Dharmic Sabha's dance and performing company directed by Vindhya Persaud revived it in an excellent production on stage some years ago and there is a Guyana Ramlila association that performs excerpts on stage occasionally. But these have not influenced any return of the tradition in its original form among villagers.
What is remarkable is that while it becomes more forgotten in Guyana and struggles to sustain interest even among Hindus, it is gaining popularity in Trinidad, where it plays to a wide audience. Research in these areas is rather under-developed and the factors responsible for the stark difference between these countries are curious but yet undetermined…..
To continue reading this article
Comments

Popular literature is an important and substantial study. It is a genre whose international impact is astounding.

How can anyone forget the magic of that childhood realm called  "on the way home from school…"?


A very significant factor in Carifesta is literature. A meaningful study of this regional cultural festival is a lengthy and complex undertaking that will require many revisits, including its treatment and representation of the region's literature.

Flame-Heart So much have I forgot in ten years, So much in ten brief years.


Guyana proved itself a major force in Carifesta XIII. The performances and exhibitions commanded attention and made a notable impression upon all, it seemed, in Barbados last month.