It was recently announced that Guyanese-British singer, songwriter, musician and producer Eddy Grant has released a new album titled 'Plaisance'. It has been all of 11 years since he released a new record. When you come to think of it, most of his biggest hits were in the 1980s, even 70s, and his busiest years like 20 years ago when he was at his most prolific.

Why then is it of any importance that he has dropped 'Plaisance'?  Why is it newsworthy, still headline-catching? Why is Eddy Grant still such a great icon, why has he become a legend?  Why is it that decade after decade his music is still so very popular, decidedly dominant, so often played, so revered and still remembered?
To answer the question of the importance, relevance and impact of the latest album – it is because Grant has returned to his roots. It is in tribute to his native village in Guyana – Plaisance, after which the album is named. Although he migrated to the United Kingdom as a teenager and has lived overseas (London and Barbados) since then, he has remembered his hometown and has now immortalised it in his work.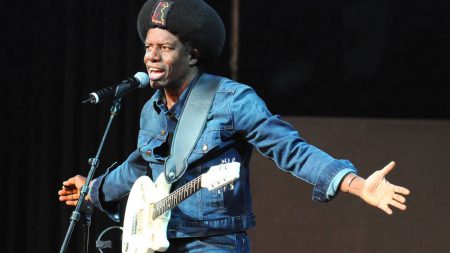 However, there are many other very important reasons, and the highest of them is to be found in that very word – "remembered". The vast majority of popular songs are ephemeral. They rise up and down the charts today, like brief candles; they are here today and gone tomorrow. They imitate "a poor player/ That struts and frets his hour upon the stage / And then is heard no more" (Macbeth). A few outstanding ones will live forever, like Procul Harum's "Whiter Shade of Pale", for example, or so many from the greats like Bob Dylan and Bob Marley, and quite a few from Dave Martins. It is because Grant has produced popular songs that are memorable, that are so strong in lyrics, music, theme and meaning that they are imprinted indelibly upon time and are still remembered. Grant remains among the most frequently played on air and on occasions of entertainment.
Popular songs are ephemeral, so this alone is not what gives Grant legendary status. His work has placed him among "the upper crust, the very thin upper crust" (Richardson Wright) of Guyanese musicians – fabled alongside Martins, Keith Waithe, and their counterparts in classical music – Ray Luck and Hugh Sam. There is much in his works that make them most popular, but he is revered because there is more to the works than popular appeal, there is social substance, depth, commentary, writing and composition.
Grant's music is evergreen for the same reasons that caused the Swedish Academy to award the Nobel Prize to Bob Dylan. Because of the writing: lyrical strength, social statement, the poetry in the lines, the fact that these verses are not simple songs, but literature. In that way, both Martins and Grant have made contributions to Guyanese literature.
Dylan asked the question about his work: "Is it literature?" and thanked the Academy for concluding that it is (Nobel Lecture, 2016). Similarly, one will conclude that Grant has produced a significant corpus of literature.
He has elevated the popular music to the stature of literature while it retains its popular appeal and is still entertainment. It is anchored in memory also because of the music, the memorable compositions and the driving rhythms. The writing makes strong statements and lines are worthy poetry. The rhythms are innovative and distinct.
In the Caribbean one recalls a few of those who are exceptional in this respect. The Barbadian calypsonian Grynner is of that ilk with his intoxicating deployment of a native Barbadian folk rhythm informed by the tuk band percussion. This powerful component helped Grynner to be the king of Road March, dominating the Crop-Over and Kadooment of the 1980s. It is reminiscent of the rhythmic emphasis of Guyana's Yoruba Singers.
Grant has remarked that he experimented with African rhythms in similar fashion as Paul Simon who researched the unique folk forms used by players in southern Africa. That component lent his music a memorable quality. It is the same that gives Grant an edge over other Caribbean musicians and fortifies his work with roots that anchor deep but resound in engaging fashion. It was using these same roots that he created the "Ringbang" rhythm.
Yet another reason for Grant's ascendancy is his international acclaim. Of all Guyanese popular musicians, he has achieved that. In fact, he has been more of an international artiste than a Guyanese. He started his career in England and was even classified as British. His singles crossed the Atlantic with the frequent freedom of the Gulf Stream heating up the passions of multitudes on both sides just as the warming influences of that mighty stream. He had number one hits in both Great Britain and the USA. He was sufficiently impactful to have been both banned and celebrated in South Africa, to have been asked to write the theme song for acclaimed Hollywood movie Romancing the Stone (1984).
Grant has thus been able to appeal to audiences and tastes in different geographic locations. He started his career in the UK forming a group called The Equals, right away touching the top of the British charts (Wikipedia). One of the prominent hits of that band, written by Grant, was "Baby Come Back" (1968) which made its way in the corridors of rock music. That was one way in which the Guyanese musician was demonstrating his range and ability to reach international audiences.
He made such an impact around the world with "Gimme Hope Jo'Anna" that it reached number one in Britain and, far away, was banned in South Africa (1988). To go further, ironically, it was that same song that prompted the South Africans to invite him as a star attraction in the great Mandela concert there after the fall of Apartheid (Wikipedia).
Such were some of the marks of achievement for him as a writer of literature. There is a consistent post-colonial quality to Grant's lyrics. "War Party" is a good example of this: "Everybody inviting me to / A war party / I don't wanna go". It begins as an anti-war protest but soon denounces the history of British imperialism in the West Indies likening it to repeated series of genocide. Genocide is often a product of war and he ties in the colonial experience to the contemporary propensity to war. The poetry is rich in its imagery/metaphor of invitations sent to him to a party "don't send me no ticket".
It is in similar poetic fashion that he writes "Gimme Hope Jo'Anna" demonstrating the literary quality that lends these works strength and longevity. "Jo'Anna" is an allegory for Apartheid South Africa, personifying the government and the racist system of Apartheid. Poets often hide intended meaning behind allegory, but this one was not so hidden. It was obvious to the South African government which banned the song from their airwaves in 1988. It has international appeal in its protest against the racist regime just like the sentiments in "War Party" to which many others could relate and a similar anti-colonial consciousness.
The themes continue in many other songs like "Race Hate" coming from a concerned artist whose preoccupations determined that he wrote "eternal lines".
Race hate
Mashing up the world
Race hate
Mashing up the world
You read in the paper today
Man shot dead for his colour I say
As an Africanist, Grant is able to express his Africanism in the musical rhythms as well as in the lyrics. A well-known composition dedicated to the continent as well as proclaiming ethnic unity in the Caribbean is "Hello Africa".
Many of Grant's most popular creations are still strong in literary quality behind the up-tempo popular appeal. A good example of this is the widely celebrated "Electric Avenue". It is deceptive in its overt appearance of lively city life because of the utter darkness of most of its lyrics. It is about struggle and about economic hardships. The bright city becomes a picture of the darkness of the inner-city existence. "We gonna rock down to/ Electric Avenue / And then we take it higher." There is the lineal contrast – rocking "down" and then taking it "higher".  Taking it higher might be a musical reference, as is "rock" and "rocking down" – dancing too.  Yet it might be moving to a higher plain, confronting more serious concerns on a higher level.
Even his love songs, such as "I Don't Wanna Dance" are underlined by a note of deeper meaning, an even tragic element of the dramatic romance. Both "I Don't Wanna Dance" and "Do You Feel My Love" are underwritten by a tragic note undermining the usual popular expression of the average love song, (which these are not).
Reference has already been made to roots, and the way Grant never forgets them. He sometimes introduces a folk quality to songs like "Neighbour Neighbour," which is more lighthearted in his line of love songs. It has the ring of community and a sense of place – a small community, even Guyanese. These examples are all testimony to the proof of greatness that is found in the works of Grant. There is the agelessness of the songs that may be attributed to the depth that there is in the seriousness of themes in much of the writing. There is the literary quality and the poetic strength found even in the love songs. To carry these is always something interesting and enduring in the music and in the rhythms.
Grant remains at the top of Guyanese popular music with decade-old songs that never fade. The compositions remain popular because they remain relevant and speak as much to the present times and issues. Always, he bridges the popular and the profound.
Around the Web