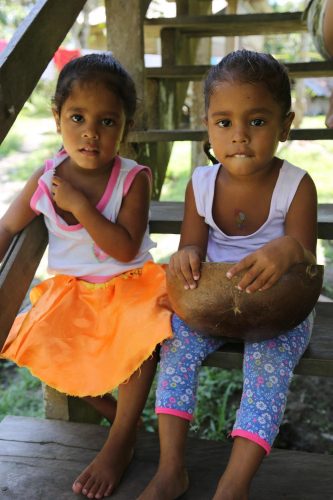 Lower Kara Kara sits on the outskirts of Linden among lush grass, trees and the rippling black waters of the Kara Kara Creek. The village is home to approximately 300 persons, most of whom are indigenous or of indigenous ancestry.
After arriving from Georgetown at the Linden Car Park, one takes a taxi to get to the end of Speightland and crosses the Kara Kara creek in a canoe. Alternatively, you can have the taxi take you along the longer route into the village but feeling the call of the creek, I chose the first.
At Speightland I asked one of the villagers how to get to the other side. He said his name was Clint and he was well-known in the area. A beaming Clint pointed to three canoes and said if I could paddle, I was welcome to borrow whichever one I wanted; that turned out to be a joke. As I got into the tiny boat, the Cola-coloured water seeped over the side but Clint calmly reassured me it was nothing to worry about. In a few minutes, which appeared longer, I arrived…..
To continue reading this article
Comments

Schoonord on the West Bank Demerara is bordered by the overpopulated Goed Fortuin and uninhabited Meer Zorgen.

The village of Crane is believed to have been in existence since the late 1800s or early 1900s and is home to more than 3,000 people.

Photos by Joanna Dhanraj Lust en Rust is a new village; its residents were given lots in 2014.

Goed Bananen Land can be found between Adelphi and Betsy Ground in East Canje Berbice.

In Canal Number One, West Bank Demerara approximately six miles from the Vreed-en-Hoop Police Station is a busy little village called Recht door Zee.