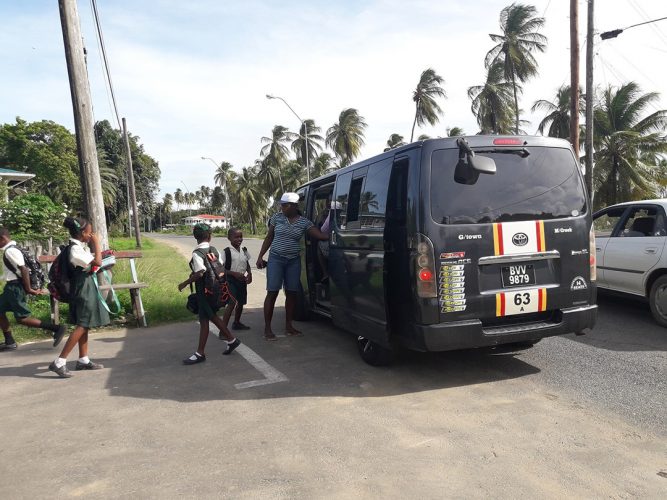 A friendly little village in Mahaicony situated approximately 51 kilometres from Georgetown, Cottage is a haven to its more than 250 residents, whose foreparents reportedly took up residence there in the mid-1800s.
Cottage was once a cotton plantation, a few persons claimed, and some of the early families were the Chichesters, the Bynoes, the Washingtons, the Chisholms, the Nelsons, the Byrnes and the Duncans. Today, the people in Cottage get by through rice farming, gold mining and cattle rearing.
Some of the villagers were out and about chatting, while others were busy in their farms or herding their cattle. One man, noticing my presence, asked if I was lost and needed his help. Informed of the reason for my visit, he directed me to his residence where ducks swam out front in the drain. His wife, Patricia Chichester, sat on a bench beneath their house surrounded by cows, sheep, chickens, dogs and more ducks.
Patricia Chichester has lived in Cottage all her life. A contented housewife, she also attends to their dozens of meat birds that are awaiting the upcoming holidays.
Her husband, a farmer is always caught up with his life as a farmer and is always busy with the animals, she said. Her son who doesn't live with them visits often to help out with the animals. She also had a younger son, who died when he was 18 years old from unknown causes; he would have been 37 now. His tomb is in the lot next door, where Patricia grew up.
As we talked she got up to close the gate to prevent a sheep from going unto the road; the sheep she noted gave birth to lambs the day before. Noticing a young calf at the side of her house I asked whether, it was a newborn also. She replied that it was and was born two weeks ago. The calf Patricia said lost its mother three days prior to my visit. The cow had wandered into someone's garden and was dealt chops about her body leading to her death. As if that was not bad enough news, the Chichesters had learnt earlier that morning from two young boys that a calf that was missing had been swallowed by an anaconda. She said the boys claimed to have witnessed this. The newborn calf now suckles from the mother of the other calf that disappeared.
Some of the advantages of living in Cottage, the woman noted, are being able to plant on fertile land, live in an area free of thieves and just a mile away from what she called the waterside or swamp, a fish pond where the villagers and outsiders catch fish and shrimp in abundance.
Chichester wishes that more people can move to Cottage and occupy the now bushy vacant lots.  Though she gets potable water 24/7, she did mention that the water is usually a rusty colour. She also complained about the "fairy lights," from the electricity service and said she hopes to have less blackouts.
Although she has the convenience of the little shops in the village, she travels by bus to a supermarket in Mahaica for her groceries.
And while the women in the village are anticipating the Christmas holidays and have already begun cleaning, the men, she said, are looking forward to the beginning of crop season next month.
Ninety-two-year-old Phyllis Moffett sat in her verandah looking out. Said to be the oldest resident of Cottage, she is a bit senile and hard of hearing. She had moved there in 1976 from Perseverance, two villages away.
Her son, Isaac Moffett was home from his job of mining for a short break. He also arrived in Cottage in 1976 and lived there for three years before leaving to go work and live abroad. He returned 18 years later in 1997 for his father's funeral and has remained. "The Cottage I met when I returned is far different from the one I left," he said. "It doesn't have the homestead it once had. The people are now more reserved and taken up with different activities."
According to the miner, he's usually away from his family three months at a time but his last trip saw him being away from them five months.
Recreation in the village, he said, finds the men drinking together at rum shops.
Noting his place wet and parts of his neighbour's flooded in several parts I asked about Cottage being affected by flooding. Moffett said that some parts of Cottage flood easily, but once the koker is opened the water runs off within an hour.
For Moffett, life in Cottage is one of peace and contentment. He adds that nothing pleases him more than being able to work and take care of his family.
Cottage Nursery School's Headmistress Carolyn Charles said the school was founded in 1962 by resident Lydia Walcott who kept the school at her place. The 'bottom house' school facilitated children from Now or Never in the east to Bath in the west. Parents paid a tuition fee of $100.
Then in 1976, after education became free a Parent Teachers Association was formed, which negotiated funding to enhance the school.
The Deonarine family of Planter's Hall  (the village before Cottage) donated materials to enclose the 'bottom house' school while Mr Lamazon, the then manager of Guyana Stock Feeds in Belmont (the village after Cottage) supplied the paint. In 1988, the school was moved to the residence of Lawrence Chichester. Then that very year, in October, the Regional Democratic Council secured a plot of land from the Chisholm family. On December 7, the building was erected at the very spot it is today. The school now accommodates 35 children.
Royden Burnett had just returned from the fish pond when I caught up with him. He was home for a short stay; he is a gold miner also. He moved to the village some 35 years ago, and is married to Sherlin Burnett nee Chichester who is the great-great granddaughter of one of the first residents of Cottage.
Royden provided documents showing that Sherlin's great-great grandfather, James Chichester purchased a section of Cottage in 1856. He paid $939 for the land. At the time, it was an abandoned plantation; James bought lots one to eight.
Fishing and farming are two of the advantages of living in Cottage he said. The breezy atmosphere is another bonus, he added, noting that it is a safe community to live in.
The Burnetts have cows, sheep, goats, ducks, turkeys, pigs and chickens which they rear mainly for domestic purposes.
For Royden, the only disadvantage to living in Cottage is the police service; and he gives his reason for the same.
Some two decades or so ago, a Chichester gave permission for a family to live on a piece of land for a period. The family built a house, but later migrated out of the country. Royden and his family bought the house and moved in next door where they lived for twenty years, but things took a twist when the family later returned and took the Burnetts/Chichesters to court. The family lost after two tries in court, but on October 5, this year showed up with a bailiff and transport for the land, evicting the Burnetts. In a video captured by Royden on his phone, a woman assisted by two young men can be seen tearing the house apart before lighting it afire. They also destroyed all of the family's plants.
Royden lamented that he showed the police at the Mahaicony Police Station a copy of the receipt for the house but according to the man, the police said they had already seen everything they needed to see from the other family.
Since the incident, members of the family have been arrested twice, Royden said. The matter is currently pending.
Apart from that, he said, "Cottage is a nice and peaceful place to live at. The village nearby, Belmont had a factory and stock feed but it's not there anymore. We would like some kind of industry here, maybe a canning or juice factory; we have lots of fruits here. This would help with employment here. A recreational facility would also be good for the youths; they usually play on anothers resident's place."
Comments

Story and photos by Bebi Oosman Bengal Village located on the Corentyne in Berbice used to be home to hundreds of Guyanese, however, migration to foreign lands has seen the numbers greatly diminished.

Voorzigtigheid was what it was once called, today it's known as Jonestown, a sprawling village situated at Mahaica some 37.5 kilometres from the city tucked between Hand-en-Veldt and the vegetation leading to the Atlantic Ocean.

Story and photos Richmond Village on the Essequibo Coast is 40 minutes away from Anna Regina and approximately 37 kilometres from the Supenaam jetty.

Buck Hill, in Wismar, Linden, is a haven for its more than 100 residents—including a large percentage of children.

Photo by Joanna dhanraj Rising Sun is a tiny, sleepy West Coast Berbice village, approximately 76 kilometres from Georgetown; there are less than a dozen families residing there.