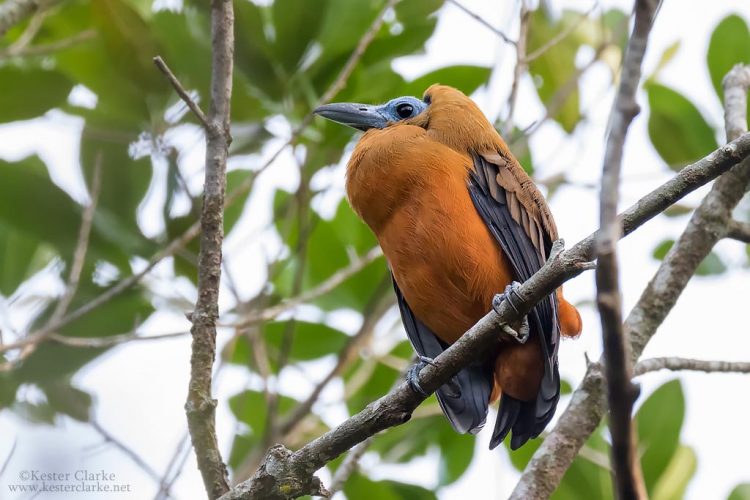 The Capuchinbird (Perissocephalus tricolor) is a large thick-set suboscine passerine with a relatively heavy bill. Adults weigh between 340 and 420 grams (0.75 and 0.93 lb; 11.99 and 14.82 oz) and are typically around 40 centimetres (15.75 in) long, making it the largest suboscine passerine apart from the Amazonian and long-wattled umbrellabirds. Its plumage is overall rich brown, approaching orange on the belly and undertail coverts, and the remiges and short tail are black. The most distinctive feature is its bare, almost vulture-like head covered in dull blue skin. They gather in leks where they "sing". The "song" is very odd and difficult to describe accurately, although some have compared it to the distant sound of a chainsaw or (as indicated by its alternative name "calfbird") a cow mooing. They eat mainly fruits and insects.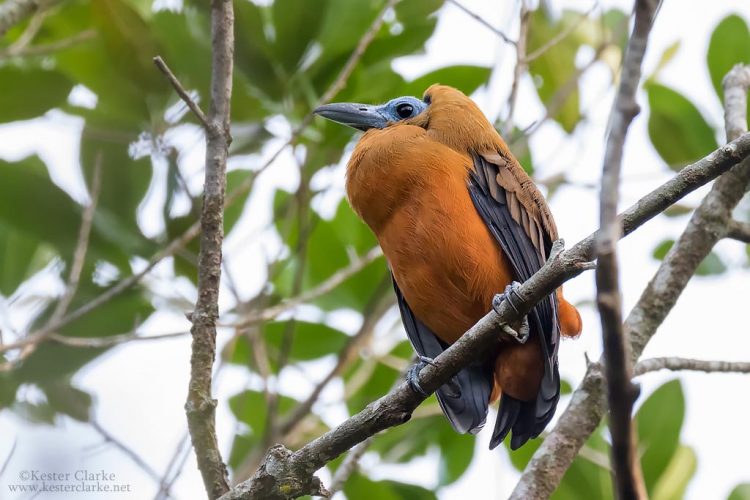 Capuchinbird (Perissocephalus tricolor). At a lek near the Karanambu Lodge, North Rupununi. (Photo by Kester Clarke www.kesterclarke.net)
Comments

The Yellow-crowned Night Heron (Nyctanassa violacea)is found in the Americas. The body and back are a smooth grey-blue, with a black scaled pattern on the wings.

The Willet (Tringa semipalmata) breeds in North America and the West Indies and winters in southern North America, Central America, the West Indies and South America.

The Whimbrel (Numenius phaeopus) is a migratory  species wintering on coasts in Africa, South America, south Asia  into  Australasia and southern North America.

The Tricolored Heron (Egretta tricolor) is found in the Gulf states of the United States and northern Mexico south through Central America and the Caribbean to central Brazil and Peru.

The Thrush-like Antpitta (Myrmothera campanisona) is found in the Amazon Basin from eastern Colombia to the Guianas, south through Amazonian Brazil, Ecuador, and Peru, to northern Bolivia.