Complex makeup
Many Guyanese have heard the adage "Show me your company and I'll tell you who you are".  That remark is usually reserved for judging people's character and behaviour.  Knowing one's company can allow a person to form an opinion about a person's ambition and the things that were likely to influence the pursuit of those ambitions.  Friends with positive behaviour are seen as having a positive influence on someone, while friends with negative behaviour are seen as having a negative influence.  But that is not what this article is about.  Nor is it about money laundering or any of those things.  This article is trying to understand a business or a company and why it is characterised in a certain way.  As one studies a company, one tries to put it into a certain category such as a sector of an economy, an institutional type or give it a special type of economic identity to gain a better understanding of its contribution and importance to society.  Just like someone with a complex personality, companies can have a complex makeup too. 
Long-standing
This writer's attention has been drawn to Banks DIH, a long-standing and influential company in the business landscape of Guyana.  By Guyana's standards, Banks is a big company.  In fact, it is now the largest company on the stock exchange having surged to the top of the Guyana stock market within the last two years with a market capitalization of $35 billion as of July 17, 2017.  At the start of 2015, Banks was valued at $19.8 billion and Republic Bank Limited (RBL) was worth $35.2 billion with Demerara Tobacco Company (DTC) holding second place.  Now, the tables have turned and Banks DIH has surpassed RBL and DTC and is more than double the size of Demerara Distillers Limited (DDL).  It is more than 14 times larger in size than Sterling Products Limited (SPL).  Such a large swing in fortunes will always attract attention.  There is a lot of pride in knowing that a local company is doing that well.  But the attention on Banks is not so much about its wealth as it is about its economic personality.  Curiosity will make others want to know if it is niche production, product diversification or some other type of business strategy that has allowed Banks to reach the apex of the capital market in Guyana.
Kaleidoscope
Even though, Banks is being used as an example, the discussion herein extends to any company that has multiple activities going on.  Typically, when one sees an organization like Banks DIH, one's mind immediately thinks of it as a manufacturing company based on the products the company has been associated with over the years ‒ aerated beverages, beer, alcoholic malts, rum, vodka, wines and liqueurs, water, dairy products, cereals, baked goods and snacks. However, they are involved in more activities. The company owns a bank, a laundry service and a number of restaurants, beer gardens and hotels across the country. In more ways than one, Guyanese and visitors to the country can have a Banks experience without drinking a beer or any of its spirits by using one of its services or choosing a dining event. This kaleidoscope of activities says much about the enterprising nature of the company, but it really leaves one to wonder how to identify it.
There might be several ways to do so when one thinks of all the products and services the company offers. When one thinks of the drinks and food products, one thinks of the company's distribution activities of wholesaling and retailing. When staying in one of its hotels, one thinks of relaxation, and of course, when one thinks of getting a mortgage or a loan, one thinks of the many financial products offered by Citizens Bank through its intermediation services. The question is, however, how should one describe this company given the multiplicity of activities it manages?
Banks DIH itself provides guidance.  According to its 2016 Annual Report, the principal activities of the company and its subsidiaries (the Group) can be described as the brewing and blending of beers, wines, liquors and assorted beverages.  Such a description brings to mind the operation of a manufacturing entity as do the words the processing of food items.  In addition to the manufacturing operations, Banks also operates a commercial bank and restaurants and provides hotel and laundry services.  One gets a further understanding of the business of the company by looking at the way in which it reports on the various segments of its operations.  With descriptions like sales of beverages and sales of food items, one's mind is oriented away from manufacturing and towards the distributive trade.  This perspective is confirmed with Banks describing such activities as the wholesale marketing of beers, wines, liquors and assorted beverages in its Annual Report.  With such diverse characteristics, the identity of the company becomes muddled.
Value-added contribution
One also gets help in understanding the sector by observing that products produced by Banks are considered manufactured products in the national accounting.  To be certain what its makeup is, one needs to be able to measure the value-added contribution of each industry or each component of the business to the total value-added by the company.  In other words, one should be able to measure the contribution of each industry or business segment to gross domestic product (GDP).  This is not possible since this writer does not have access to such information.  However, according to the International Standard Identification Classification (ISIC) methods, it is something one should do when examining companies with mixed activities since considerable proportions of the activities of a company could be included in more than one section or class of the ISIC. For example, the company's activity of manufacturing beverages falls into three classes of ISIC. These are, 1101- distilling and blending of spirits; 1103-manufacture of malt liquors and malt and 1104-manufacture of soft drinks; production of mineral waters and other bottled waters.  The different classes reinforce the perspective that it is a manufacturing company with independent multiple activities.
But one also notes that there is the wholesaling of the products that it produces.  This brings the company into another sector of the economy and into another industry.  It is akin to a company like GuySuCo which with its cane production sits in the agricultural sector, but with its conversion of cane into sugar and by-products through the factory process enter the manufacturing sector.  One could also consider the movement of rice from the field to milling in the same light.  Banks DIH goes the other way from manufacturing but in this instance to wholesaling.
Business strategy
This characteristic of the company forces one to think of its business strategy.  The study of the business strategy leads one to see two interesting economic characteristics of the company.  The movement from manufacturing to the distributive trade enables one to see that Banks could be perceived as a vertically integrated company.  A vertically integrated operation occurs where different stages of production are carried out in succession by the same unit and the output of one process serves as the input to the next.  The crossover of Banks from manufacturing to wholesaling takes it closer to its customers and to the extent that it controls distribution outlets, in virtual style like Dell Computer does, makes it a business that uses forward integration to achieve its business interests and to grow the company.  The vertical integration strategy helps it to control cost, quality and the delivery times of the products to customers.  Unlike in the manufacturing part of its operations where there were three different classes of activities, the distributive trade for this company has only one class.
Up until it sold its operations in Barbados, Banks could have been regarded as a horizontally integrated company.  Horizontal integration occurs where an activity results in end products with different characteristics or where the same activity occurs in a different market.  The operation of a similar enterprise in a different market allowed the company to spread out its operations rather than stretching a single product or group of products along a single value-chain.  Banks was able through its horizontal integration strategy not only to enter a new market but also to reduce risk.
Conglomerate
Perhaps, the most distinguishing characteristic of Banks is the diversity in activities, business and products.  The three classes of output spirits, malts, and soft drinks and water in manufacturing demonstrate the many ways in which the company participates in the economy.  The ownership of a financial service organization and the operation of restaurants, bars, laundry services, a hotel and with a 40 per cent interest in a livestock operation make the company a conglomerate.  In a sense, these are some of the things that this writer knows about the company called Banks DIH.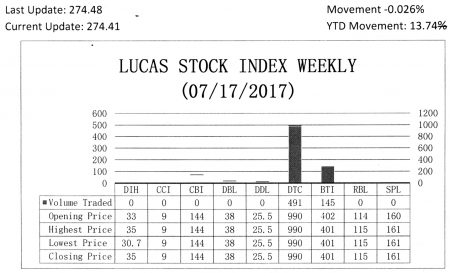 LUCAS STOCK INDEX
The Lucas Stock Index (LSI) declined by 0.026 percent during the third period of trading in July 2017.  The stocks of two companies were traded with 636 shares changing hands.  There was one Tumbler and no Climbers.  The stocks of Guyana Bank for Trade and Industry Limited (BTI) fell 0.25 percent on the sale of 145 shares. In the meanwhile, the stocks of the Demerara Tobacco Company (DTC) remained unchanged on the sale of 491 shares.  
Around the Web