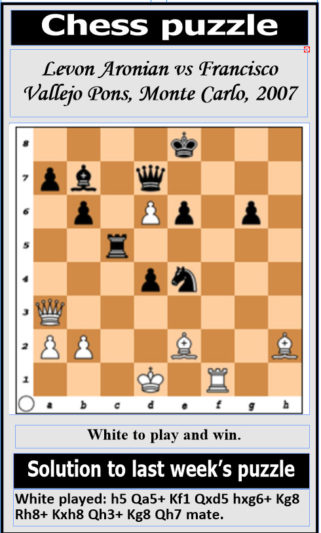 At the conclusion of the 8th round of the brutal Altibox Norway Chess Tournament, categorized as the strongest-ever in the world based on the elite rank of its participants, world chess champion Magnus Carlsen sits in the penultimate position following his lone victory over his former challenger for the title, Sergey Karjakin. Carlsen was tied with Frenchman Maxime Vachier-Lagrave for last place until he obtained the 8th round win. The tournament ended on Friday evening in Stavanger, Norway. Carlsen lost two vital games in the 7th round to Vladimir Kramnik, and in the 4th to Levon Aronian before millions at home and legions of fans worldwide. In the final 9th round he faced India's Viswanathan Anand, a previous world title holder and challenger.
Both of Carlsen's losses were sensational in different ways. Aronian played the impetuous Bxh7+ followed by Ng5+ and


Qh5 popularly known for its immense complications when a victory cannot be readily envisaged and one has already lost a piece. The Armenian, celebrated for his attacking style, took the fight to the champ. It was a courageous thing to do against a polished world champion who is revered for his awesome theoretical knowledge of the game. The piece sacrifice worked and Carlsen tendered his resignation on move 35.
Against Kramnik, Carlsen lost in the endgame. He could not prevent his opponent's d-pawn from reaching the desired queening square, and resigned on the 40th move. The game seems to represent a turning point in Carlsen's endgame dominance. Just recently the endgame victory by Kramnik would have been unthinkable. The champ was way ahead of his colleague in endgame play. Carlsen increased his popularity in chess by studying equal endgames on the spot and eventually winning them.
However, Carlsen's victory in the 8th round against
Karjakin was simply magnificent. Fired-up following his two losses, Carlsen played flawless chess against his opponent. He rehashed an old idea which a previous world champion Mikhail Botvinnik unleashed and made famous against Jose Capablanca at the AVRO 1938 tournament; it was called the 'Botvinnik Pawn Roller'. Just as Botvinnik defeated Capablanca at AVRO, Carlsen did the same to Karjakin.
Karjakin offered his resignation on move 44.
The two leaders of the prestigious Altibox tournament (Aronian with 5.5 points and Hikaru Nakamura with 5) are some way ahead of the competition. Aronian opposed Wesley So Friday evening and Nakamura faced his chess colleague and countryman Fabiano Caruana. Decisive results for the two games are the only ones which matter at this stage.
Comments

2017 was a great year for world chess. The column highlighted whatever was of importance in chess locally and internationally.

Chess grandmasters Viswanathan Anand and Ju Wenjun, and Magnus Carlsen and Nana Dzagnidze completed 2017 in fine style as they won the World Rapid Championships and the World Blitz Championships.

Guyana's chess for 2017 has both been invigorating and disappointing. On the positive side, the Berbice Chess Association was established, an overture was made to the Georgetown Prison, Guyana was represented at an important World Chess Federation (FIDE) overseas meeting, the Berbice Inter-Schools Chess Championship was held and Guyana won the inaugural Caribbean Chess Cup.

"Dear God," she prayed, "let me be something every minute of every hour of my life." – Betty Smith, A Tree Grows in Brooklyn Dennis Ivor Patterson, 73, died on Tuesday, December 12, 2017.

Garry Kasparov, a previous world chess champion, has documented his insights into his 1997 match with the IBM computer Deep Blue.