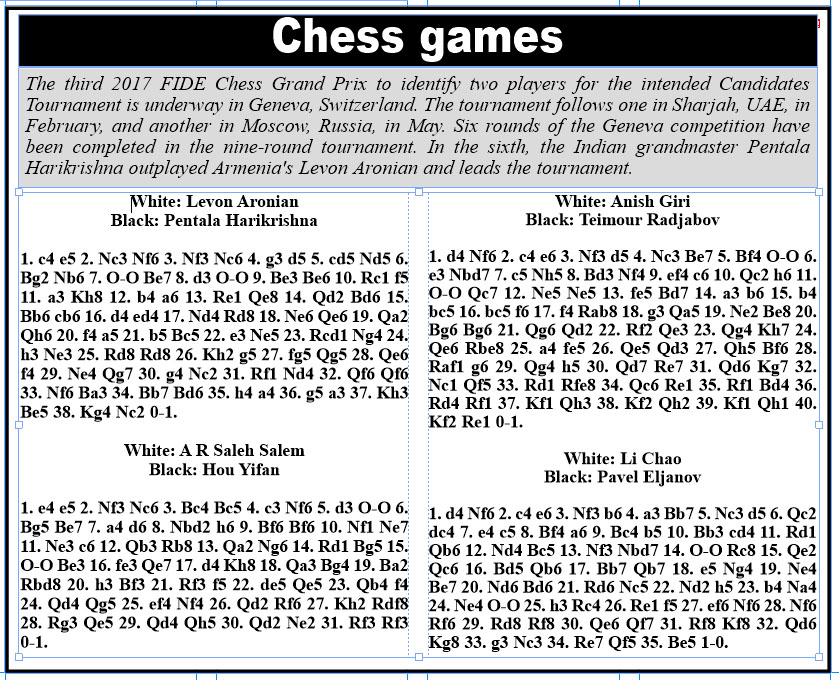 The game (chess) has always been thought of as a relatively pure measure of intellect, and the presence of a Soviet atop the world rankings signalled to the empire's subjects, no matter how poor and starving they may have been, that they possessed some sort of superiority – Jack Dickey, in an article titled "Can Garry Kasparov stay a move ahead of Vladimir Putin?" Sports Illustrated, July 2017. 
Legendary world chess champion Russia's Garry Kasparov who, in 1985 at age 22, became the youngest world champ ever, is returning to competition. Kasparov, 54, will be competing at the St Louis Rapid and Blitz tournament August 14-19, 2017 of the Grand Chess Tour. The St Louis tournament is the third of five stops of the Grand Chess Tour with the previous two being contested recently in Paris and Leuven. The current world chess champion, Norway's Magnus Carlsen, dominated both of those events winning the last one by an impressive three points. The St Louis headliners will comprise Carlsen, Wesley So, Hikaru Nakamura, Fabiano Caruana, Viswanathan Anand, Sergey Karjakin, Levon Aronian and Ian Nepomniachtchi. The four wildcards are David Navara, Le Quang Liem, Lenier Dominguez (Cuba) and Garry Kasparov.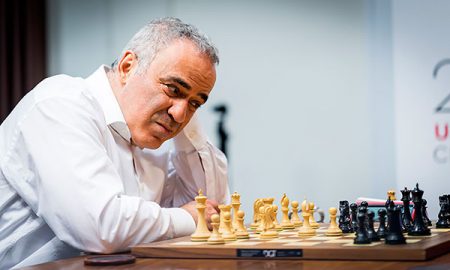 On the Chessbase website earlier this month, Kasparov was quoted as referring to his return to international competition as follows: "It's a thrill to officially be returning to the game, and certainly not something I would have anticipated more than a decade after my retirement. Coming back to the board in Saint Louis is truly an honour – I wouldn't want to commemorate this moment anywhere else."
Kasparov retired from international competition in 2005 after ruling the chess board for 20 years. He lost his championship title to Vladimir Kramnik, his countryman from Russia, before retiring. Kasparov came to prominence in 1985 when he defeated Anatoly Karpov in a closely fought match for the world championship title. He won again against Karpov in 1986 and drew in '87, retaining his title. In the nineties, Kasparov turned his attention to mastering deep thinking computers at chess. This novelty act gave him unprecedented fame as he crushed two computers, the best the world had to offer. Ironically, Kasparov is also most likely remembered for his 1997 narrow loss to Deep Blue, the most advanced computer chess programme at the time. Regrettably, Kasparov was never allowed a return match. The machine handlers, IBM, retired the computer.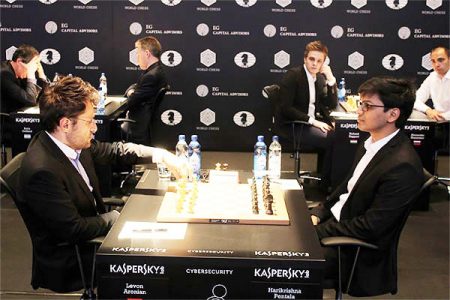 Currently, Kasparov is a hugely successful author and writes a column for the Wall Street Journal.    At the conclusion of round seven of the FIDE Grand Prix tournament, Azerbaijan chess grandmaster Teimour Radjabov has taken the sole lead with five points. He is followed by Alexander Grishuk of Russia and Pentala Harikrishna of India with 4.5 points.
Around the Web