When the finest chess players on the planet clash in the same competition, no one, not even the world champion, is safe. At the Sinquefield Cup Chess Tournament which ended yesterday in St Louis, USA, World Chess Champion Magnus Carlsen capitulated to Frenchman Maxime Vachier-Lagrave. That was the startling and sensational news in the chess world until midway in the tournament. Then, suddenly, in the sixth round of the tournament, Vishy Anand appeared and wrestled the thunder from Fabiano Caruana.


Playing with imagination and confidence based on personal experiences and home preparation, Anand was all over Caruana on the chess board. Caruana is ranked the No 3 player in chess worldwide, and boasts a place in the elite 2800-club. Anand employed the English Opening against Caruana in a surprise move since the Indian grandmaster had used this opening only sporadically in his career. Anand boldly sacrificed his queen, and, in so doing, initiated a delightful mating net which he cast around his opponent's king. In the post-game analysis, it was demonstrated that Anand's calculation of the immediate position after 22…Rxe2 proved to be flawless. (See Figure 1). Caruana announced his resignation on move 29 of the game. Can you recreate Anand's moves?
Meanwhile, in local news, chess classes are happening at the National Aquatic Centre at Liliendaal. Persons willing to learn chess can do so on Mondays, Wednesdays and Fridays from 1 to 4 pm until August 25.
Comments

"I tried to be reasonable; I didn't like it." – Clint Eastwood In the game of chess, you cannot be reasonable.

Magnus Carlsen, 26, the charismatic Norwegian who is the World Chess Champion, blew away some eminent grandmasters to capture the 2017 Isle of Man Open Chess Tournament last Sunday.

Following a full two weeks of elite international chess, Armenian grandmaster Levon Aronian toppled each of his opponents to emerge victorious in the 2017 World Cup.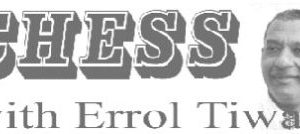 The most accurate chess thinkers worldwide, the most prolific grandmasters in the world, 128 of them, began the 2017 FIDE World Cup with solid hopes of taking one of the two qualifying spots for next year's Candidates Tournament.

One of the selected aspirations of a chess grandmaster is to become a world chess champion.