Following a full two weeks of elite international chess, Armenian grandmaster Levon Aronian toppled each of his opponents to emerge victorious in the 2017 World Cup. On the final day of the competition, Aronian defeated Ding Liren of China in the shortened version of the game: two games at 25 minutes per player for each game. Earlier, on four separate days, Ding had successfully contained his opponent's

technique by drawing in the four longer classical instances. Much more than pocketing the substantial prize money for winning the World Cup, Aronian secured a  place in the March 2018 Candi-dates Chess Tournament scheduled to be held in Germany. Actually, the World Cup qualified the winner, Aronian and Liren, the runner-up, to play in the Candidates. The two will join Russia's Sergey Karjakin and five currently unknown additional participants in the Candi-dates. The selection process has not yet been completed. The winner of the Candidates will oppose world champion Magnus Carlsen of Norway for the chess championship of the world.  
Aronian had created some  minute positional advantages in games two and four of his classical encounters against  Ding, but they were not enough to ensure victories. Therefore, the match proceeded into the uncertain tiebreak format.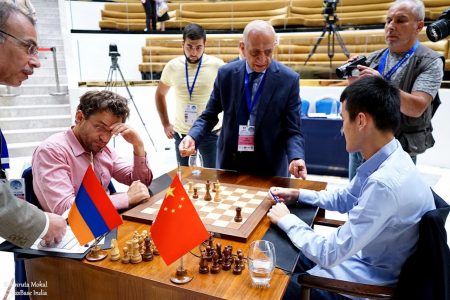 In the first 25-minute game, both contenders blitzed their opening moves as the replay demonstrated, since the time for each move is posted. Suddenly, on move 12, Aronian deviated from known chess theory and produced an excellent novelty. It caused Liren to lose valuable thinking time on his clock and he eventually lost the game. The Chinese grandmaster resigned in 30 moves.
The second game screamed for a win from Liren to balance the equation. It was difficult to accomplish although Liren had the white pieces and the first move. Both players came out of the opening equally, but chess analysts contend that both players did not find the most ideal moves, perhaps owing to consistent time pressure. Liren resigned this time in 33 moves.
With this victory, Aronian has now won the World Cup twice, having done so previously. During the closing ceremony, Aronian heaped praise on his colleague grandmaster. In part, he said: "Very few people in the chess world can defend the fourth classical game as White and Ding Liren did so easily. I learn a lot from his chess."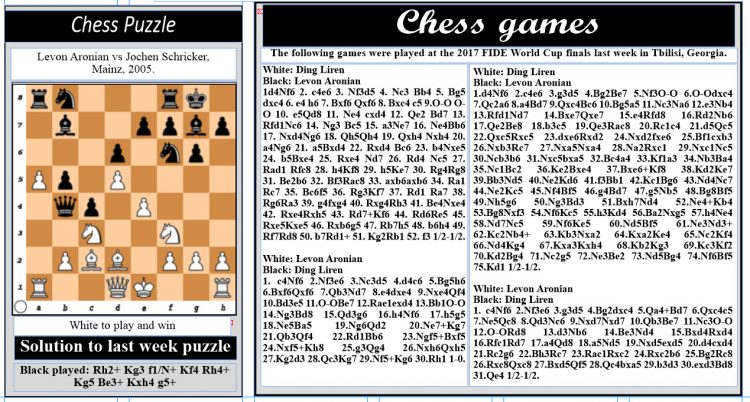 Around the Web