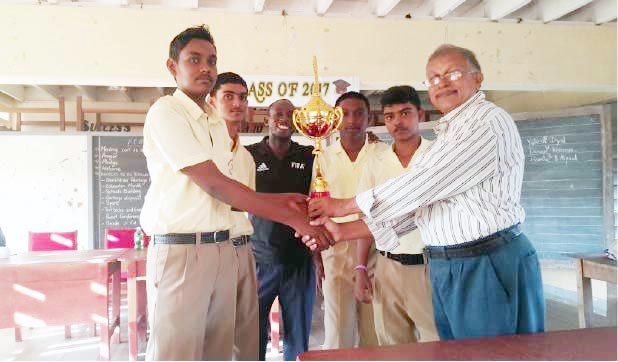 "I tried to be reasonable; I didn't like it." – Clint Eastwood
In the game of chess, you cannot be reasonable. If you do, you cannot execute checkmate. When two inseparable friends clash, friendship ceases temporarily when white makes the first move on the chess board. Chess players acknowledge this unwritten rule with reverence. That is why you feel no remorse when you overcome a younger opponent, sometimes a mere child, in competition. Chess is styled in that manner. The game is getting younger by the day. International masters and grandmasters are emerging earlier than before. We sometimes seriously reflect on the words of the late, great chess genius Bobby Fischer: "When I was 11, I just got good."
That is why chess associations around world advocate the game should be learnt in schools. Last month, Education Month, the Berbice Chess Association held this year's Berbice Inter-Schools Championship and a total of ten schools dispatched 29 students to participate. The number may seem infinitesimal, but it was only in July that the Berbice Chess Association was established.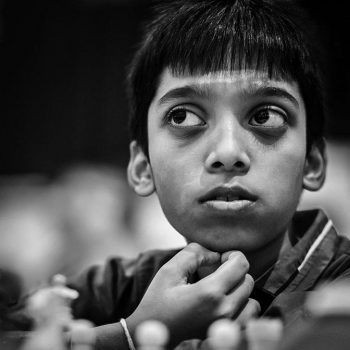 In January, the Region Six administration coupled with the Department of Education approved a recommendation that the Berbice Inter-Schools Chess Championship be held as a calendar event during September. New Amsterdam Multilateral School placed first in the competition in the team category and Darwin London Nurse of Berbice Educational Institute in the individual category.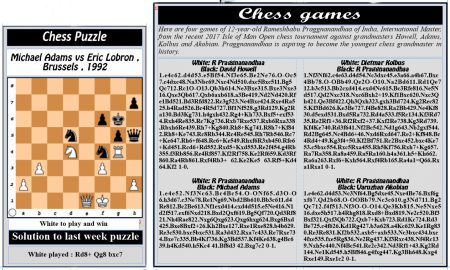 Meanwhile, on the international scene Rameshbabu Praggnanandhaa, India's 12-year-old contender for grandmaster, played well at the competitive 2017 Isle of Man Open Chess Tournament recently. He grabbed 5½ points from a total of 9 games losing to only 2 well-known grandmasters.
Comments

2017 was a great year for world chess. The column highlighted whatever was of importance in chess locally and internationally.

Chess grandmasters Viswanathan Anand and Ju Wenjun, and Magnus Carlsen and Nana Dzagnidze completed 2017 in fine style as they won the World Rapid Championships and the World Blitz Championships.

Guyana's chess for 2017 has both been invigorating and disappointing. On the positive side, the Berbice Chess Association was established, an overture was made to the Georgetown Prison, Guyana was represented at an important World Chess Federation (FIDE) overseas meeting, the Berbice Inter-Schools Chess Championship was held and Guyana won the inaugural Caribbean Chess Cup.

"Dear God," she prayed, "let me be something every minute of every hour of my life." – Betty Smith, A Tree Grows in Brooklyn Dennis Ivor Patterson, 73, died on Tuesday, December 12, 2017.

Garry Kasparov, a previous world chess champion, has documented his insights into his 1997 match with the IBM computer Deep Blue.