Chess is a catalyst for social development in communities that are underserved. We need to give these alternative pathways to the youngsters in our communities so that they know there are other ways to success." – Prime Minister of Jamaica Andrew Holness, at the launch of the inaugural Jamaican International Chess Festival earlier this month.
Learning chess, especially for young persons, opens a world of opportunities. Teaching a young person chess represents a most magnificent gift. Chess is equivalent to academic studies. A famous chess player once said that qualifying for grandmaster office is equivalent to obtaining a PhD in a particular field. The assertion is debatable. What I do know, however, is that Guyana and the English-speaking Caribbean have many PhDs to display, but only a single chess grandmaster.
I have always held on to the inimitable Maurice Ashley, the Caribbean's most famous chess voice whom I interviewed at the World Trade Center during the Kasparov-Anand world title chess match in 1995. Ashley is Jamaican, but qualified, and developed his renowned grandmaster techniques in North America. In my book, he's a Caribbean man, close to home.

Last month, an almost invisible event occurred in Berbice. The Berbice Chess Association (BCA) held the Berbice Inter-Schools Chess Championship to coincide with Education Month. The association was established in July and interest amongst the youngsters remains fair. President of the BCA Krishnanand Rughunandan has promised a fair number of chess tournaments for 2018 which will not be easy to deliver. But Raghunandan is an experienced tournament host and we are hoping for the best he has to offer. He has organized seven Berbice Inter-School Chess Championships to date, in addition to participating in the National Inter-Schools Championship accompanied by his students in Georgetown over the years.
At last month's Championship, New Amsterdam Multilateral placed first in the team effort, while Darwin London Nurse was first among the participants which came as no surprise to me. Nurse was the defending individual champ but added to that, he is a wonderful chess player. He has ideas and plays his moves to reflect those ideas. I know because I have been paired him in competition on more than one occasion.
We are waiting to witness Nurse in action against our strong Georgetown players. The Region Six Department of Education undertook the expenses for the meals and travelling for last month's championship. Some of the other sponsors of the event included the Matadeen Western Union, Hand-in-Hand Mutual Fire Insurance Co Ltd, Bibi's Travel Service, Republic Bank Rose Hall and Malesha Mackoon of Rose Hall town.
On the international scene, the world number two chess player Levon Aronian of Armenia, married Arianne Caoili a woman International Master from Australia in Yerevan, Armenia. Caoili represented Australia seven times at the biennial Chess Olympiad.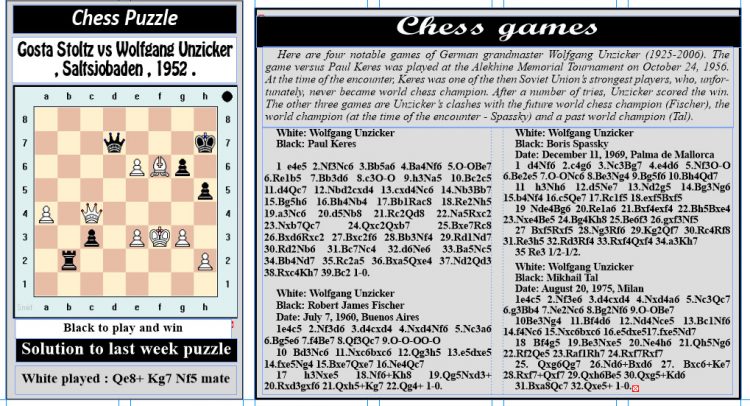 Around the Web