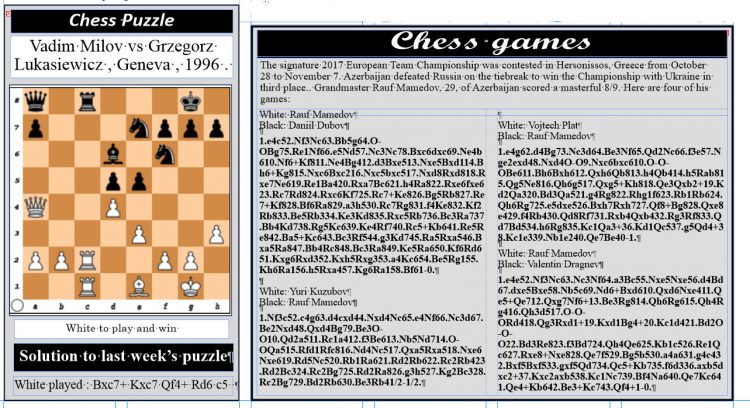 "Never be afraid to try something new. Remember, amateurs built the Ark; professionals built the Titanic." – Anonymous
Each child who learns chess, learns something new. Talent for the game could either be developed, or set aside. Thousands of children learn chess each year but only the ones who play competitively, and advance in rank via the FIDE Elo points system, attract attention. The world of international chess is competitive.


Guyana has equal opportunities similar to the benefits enjoyed by the developed nations to forge ahead in chess selectively. But first we have to practice at home with sagaciousness before we can compete with élan overseas. We should not wait for, neither should we depend only on the biennial chess Olympiad for recognition. If we do, our chess would be stagnated…..
To continue reading this article
Comments

The world's number three chess player, American grandmaster Fabiano Caruana, unfastened the deadlock of draws which had been plaguing the London Chess Classic for an interminable three rounds.

The eight participants for the 2018 Candidates Chess Tournament have been decided. Six were chosen previously based on a number of transparent criteria, and last week the final two were selected from the Grand Prix at Palma de Mallorca, Spain.

Chess is associated with reason and intelligence. It is bonded to logic and order.

I share the belief that chess is becoming essentially popular among youths in developing nations. 

Ever since the 1960s, the Candidates chess matches and subsequently the chess tournaments, have been recognized as definitive and contentious battles.