I share the belief that chess is becoming essentially popular among youths in developing nations. It is the obvious and verifiable truth. We can tell by the nationalities who respond positively to important international chess tournaments. Within the Caribbean, only Cuba would be noticed unequivocally in recognized chess circles. The nation obtains global media attention for its annual Capablanca Memorial Chess Tournament and is blessed with a tasteful 2700 player, who is numbered as the No. 20 chess player worldwide.
Recently, a former chess prodigy, Demis Hassabis, one of the world's most influential business leaders, presented some prudent advice to students in the United Kingdom about developing their core skills which are relevant in today's rapidly changing world. Hassabis has been hailed by Time Magazine as one of the world's top 100 most influential people, and is co-founder and CEO of Deep Mind, a leader in Artificial Intelligence (AI). Deep Mind is a neuroscience-inspired AI company which tackles pressing worldwide challenges. The former child prodigy in chess had reached a master standard at the age of 13, with a FIDE Elo rating of 2300.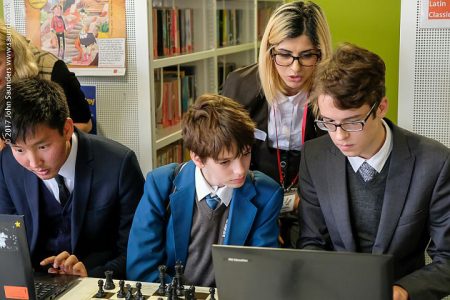 Hassabis was at an event which was a partnership between Deep Mind and the Chess in Schools and Communities, a charity that introduced chess to over 800 schools in the UK, and established the game as part of the schools' curriculum. During his meeting with the students, Hassabis noted: "My journey into AI started with chess, because it challenged me to think about how we think. I am therefore very proud to support the concept of learning chess in schools. Furthermore, I would encourage children to explore widely, find their passion and focus on learning how to learn."
He emphasized to students that chess assisted him to develop important skills such as problem solving, planning, visualization, performing under pressure and the transfer of learning from one domain to another.
Chess in Schools and Communities is a UK charity whose mission is to improve children's educational outcomes and social development by introducing them to the game of chess.
Norwegian world chess champion Magnus Carlsen and three US grandmasters: Fabiano Caruana, Wesley So and Hikaru Nakamura dominated their competitors in the dramatic Champions Showdown last week in St Louis, Missouri, USA. The Showdown featured a four-day battle for top honours in Rapid and Blitz chess. There were 30-minute, 20-minute, 10-minute and five-minute blitz games.
Carlsen was drawn to face Ding Liren of China, his country's number one, whom he beat handily. The champ won 16 games from a 30-game total, while Liren won two. The remainder were drawn.
Time was of the essence in the Showdown, and Carlsen along with the other three victors, simply played faster chess. Each winning grandmaster pocketed US$60,000 for his effort while the losers received US$40,000 each.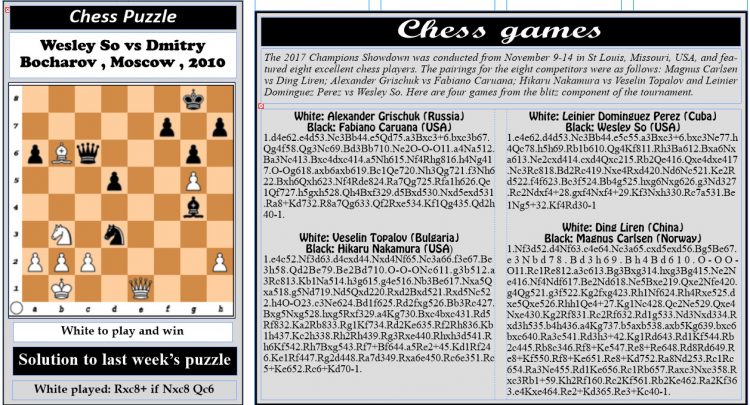 Around the Web