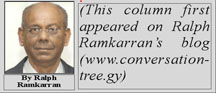 There are approximately 2,000 prisoners in the five facilities in Georgetown, New Amsterdam, Mazaruni, Lusignan and Timehri. Of these 35 per cent are on remand awaiting trial. The Georgetown Prison at Camp Street was designed to accommodate 600 prisoners but held in the vicinity 1,000. Violent incidents or escapes have occurred in Georgetown, New Amsterdam and Mazaruni in the past. There was always a great fear among those responsible for security that Camp Street could explode at any time. The problem of overcrowding was well known.
The recent studies and reports are as follows:
In 2001 a comprehensive report by a British team on prison reform was made. It found overcrowding, violations of human rights, inadequate alternatives to incarceration, poor conditions for prisoners and staff and minimal scope for rehabilitation…..
To continue reading this article
Comments

The public has been gripped over the past few weeks by the evidence which has been emerging from the Commission of Inquiry (CoI) into the alleged plot to assassinate President David Granger.

Being away for the past six weeks allowed me the luxury of leisurely contemplating Guyana from afar.

The performance of the British Labour Party in the elections last week has been spectacular.

The Guyana Bar Association (GBA) had its annual general meeting on Wednesday last and elected a new Bar Council, the name of its executive.

This weekend Guyana celebrates the 51st Independence Anniversary, offers national awards to worthy citizens on their contributions to Guyana and welcomes the uplifting message of Ramadan.