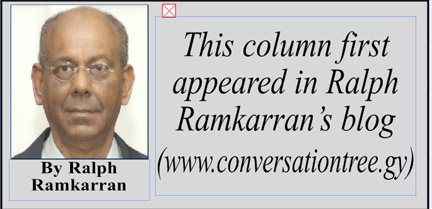 I adopt the sentiments of Lincoln Lewis, who writes frequently on constitutional matters. He said in last Sunday's Chronicle: "We are facing a very serious situation and what I am about to say is intended to right a ship, veering wildly off course and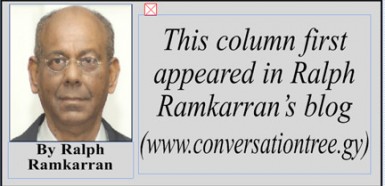 posing dire implications for the rule of law, the legitimacy of the executive, and protecting the well-being of the society." Mr Lewis cited the following instances where the authority of the executive and limits of the President have been exceeded: 1. The termination of leases in the MMA; 2. (Mis)Interpretation of criteria for Gecom chair; 3. The termination of Red House lease; 4. Seeking to possess the property of Clarissa Riehl; 5. Instructions given to the Police Service Commission not to act on a list for promotions. While Mr Lewis's did not explicitly say so, his conclusion is that the court rulings suggest that the constitution is being violated.
A strong editorial in the Stabroek News of August 21 did not mince words. Additional violations were cited in extenso: "…the directive issued by Minister of State Joe Harmon on June 26 to the Police Service Commission (PSC) in the name of President Granger for the halting of the police promotions process must be condemned as an attack on constitutionalism…Given President Granger's flawed reading of the constitutional provisions relating to the appointment of a Chairman of the Guyana Elections Commission, his unconscionable delay in acting upon the recommendations of the Judicial Service Commission and the May 2015 attempt by Minister Simona Broomes to issue an instruction to the Public Service Commission, which was later ruled ultra vires by the High Court, a pattern of highly worrying behaviour has ….
To continue reading this article
Comments

Membership of our two main political parties does not necessarily imply that one is a racist or subscribes to an ethnic approach to politics.

The government is silently leaning the economy towards Burnham's socialist control system, to cooperativism and poverty, where the sugar workers suffer and the private sector has no influence.

Alexandra Kollontai (1872-1952) was a leading Bolshevik and the earliest champion of women's rights under the new Soviet government.

The public has been gripped over the past few weeks by the evidence which has been emerging from the Commission of Inquiry (CoI) into the alleged plot to assassinate President David Granger.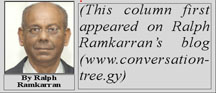 There are approximately 2,000 prisoners in the five facilities in Georgetown, New Amsterdam, Mazaruni, Lusignan and Timehri.