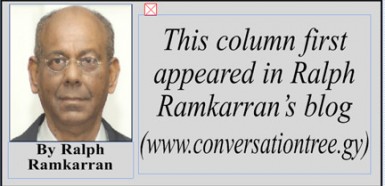 The government is silently leaning the economy towards Burnham's socialist control system, to cooperativism and poverty, where the sugar workers suffer and the private sector has no influence. The past government's policies favoured drug lords, the criminally inclined and business crooks. While these two parties are in existence racism will never die in Guyana and the problems outlined above, and more, will never be resolved. Guyanese have a decision to make, or not to make and to live with the consequences. That decision is whether or not to support a political party for the next elections to be soon announced by Mr Craig Sylvester, whose views, as set out in a letter in yesterday's KN, are summarized above.
The dominant narratives in and about Guyana are conditioned by slavery, indentureship and their consequences. One major consequence is the existence of two ethnic blocs which have been socialized differently and separately. Guyana consists largely of two different societies, in watchful competition, but largely at peace, existing under the same national roof.
The manner in which these ethnic blocs represent what they perceive their interests to be has evolved over the years, but with a central theme revolving around the idea of agreed united political action. During the 1950s, two major ….