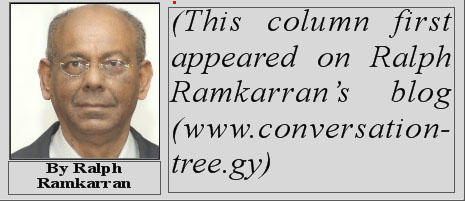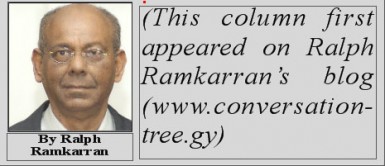 Minister Khemraj Ramjattan responded to my article last Sunday, entitled, 'To preserve itself, the AFC must resign from the government,'  with the following epithets – "nonsensical"; "vacuous chatter"; "idiotic"; "we are not going to block [the] chatterati"; "foolish"; "Ralph kept his mouth shut then he got shelved now he is talking plenty"; "if he wants to be a politician he should go form a party then know what it is"; "these fellas love to talk from a distance like parrot, you know parrot telling donkey how to bat but stays up in the tree, they want to stay up in the tree and not do the batting themselves, you write exactly what I say there." Sadly, by succumbing to the temptation of the politics of abuse, Mr Ramjattan exposes the inability of the AFC to answer serious questions about its political posture.
Would you believe that this was the same Khemraj Ramjattan who embraced me at the post 2015 election celebration at the Pegasus Hotel in congratulation for what he believed was my contribution to the victory of the APNU+AFC coalition? Well, he did. At the same event, Prime Minister Moses Nagamootoo thanked me in the presence of several persons. Now Minister Ramjattan is abusive and PM Nagamootoo uses the Chronicle to denigrate me.
Minister Ramjattan does his high political status ….
To continue reading this article
Comments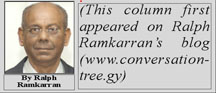 There was a signing bonus. It was known but denied by several ministers of the government.

The Russian Revolution, referred to as the 'Great October Socialist Revolution,' took place one hundred years ago on November 7 (October 25 on the calendar in force in Russia at the time).

Political tensions in Guyana took a turn for the worse over the past two weeks.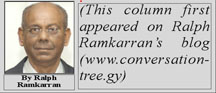 Very little debate has taken place on the Petroleum Commission of Guyana Bill.

The Peoples' Progressive Party went to extraordinary lengths over ten months to find eighteen Guyanese willing to agree to have their names submitted to the President of Guyana for consideration to be appointed to one of the most difficult, controversial and thankless of jobs ‒ Chair of the Elections Commission.