First off, Merry Christmas and Healthy New Year to you readers of this and other weekly columns that appear in the Stabroek News.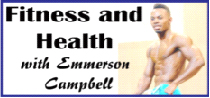 I would admit that this is the time to eat drink and be merry, but not to binge and potentially destroy the fitness gains you made during 2017.
The 'season' is well on its way. Christmas parties, gatherings and social outings usually mean going overboard on eating, and even more overboard on the alcohol…..