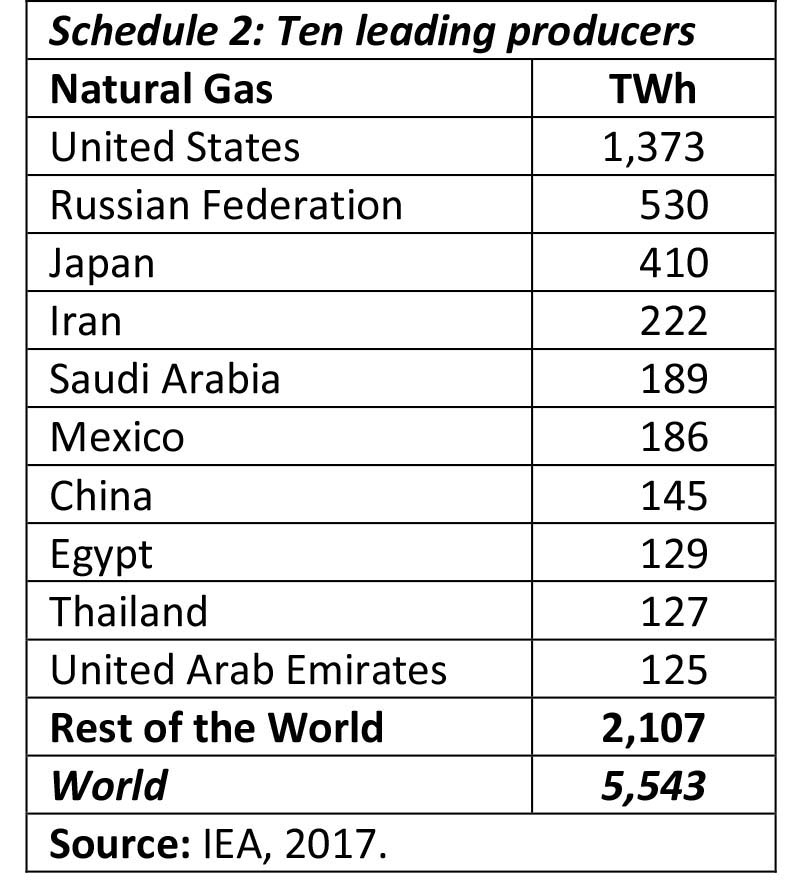 Introduction
Last week's column had raised the conundrum: What next? Given that, I am advising against state investment in oil refining therefore, what other major options I am recommending for realizing the substantial potential of Guyana's recent petroleum finds. Thus far I have indicated: 1) my openness to the construction of modular mini refinery/(ies) if financed by "non-state" investors and, 2) the pursuit of those commercial options identified in the Pedro Haas feasibility study. A third option, natural gas development, was introduced last week and this will be further explored today.
 Natural Gas: World Context:

First, consider the global natural gas situation. I had indicated last week, the International Energy Agency's (IEA) estimate of global production (percentage share by country/region), for the period 1973 to 2016. In the IEA's 2017 Natural Gas Analysis and Forecast, 2022, as many as 16 opportunities, which are encouraging for Guyana's prospects have been identified; ranging from structural shifts in global production, consumption and trade, to environmental, technological and national security factors.
The IEA summarily observes: "the natural gas market is undergoing a fundamental transformation. Industry has overtaken the power sector as the driving force behind the growing use of natural gas, thanks to rising demand in places like China, developing Asia, Middle East and the United States [the world's largest consumer]. At the same time structural changes in gas supply and trade are changing the global market". (IEA 2017)
Concurrently, other market characteristics have gained prominence, including: 1) a temporary global oversupply of natural gas, which puts pressure on competitive prices 2) the United States' shale gas revolution 3) the so-called "second wave" of liquefaction/technology/capacity expansion 4) the disruption of global trade, as reflective of structural shifts in country/region distribution of consumption, supply and inventory holdings.
Presently, more than 100 countries use natural gas substantially, (with the United States the largest user). Indeed, back in 1970, one-sixth of total energy use came from natural gas, today, however, this ratio has reached about one-quarter. Natural gas consumption, is growing faster than both oil and coal. It has become the leading energy source and by 2022 it is anticipated that, more than half of the forecasted global energy growth will come from natural gas!
Guyana: Natural Gas
Undoubtedly, such developments support the Government's decision to engage Energy Narrative (a network of Caribbean energy experts and strategic market analysts), advisors both to governments and businesses, to undertake "a desk study to determine the options open to Guyana's natural gas finds", (GINA, April 27, 2017).
This study seeks to determine for "official purposes", the following: 1) the probable size of Guyana's "associated and non-associated" natural gas supply and demand 2) the various market and other economic options open  for its usage 3) likely costs 4) the technical/commercial feasibility of bringing national gas on-stream 5) the technical/commercial feasibility of various modes of transporting natural gas from offshore 6) the economics of Guyana natural gas storage 7) natural gas usage for generation and/or co-generation of electricity (technically and commercially) and 8) other related matters (like accidents, environmental impacts, and health impacts) as well as national security concerns.
I recommend Guyana's pursuit of the natural gas option as replacement for state investment in oil refining. Natural gas usage is relatively clean and affordable. It is a relatively abundant source of domestic energy, with prospects for exporting regionally and further afield. Further, it is more compatible with Guyana's pursuit of the aspirational goal of a "green state", certainly when compared to building a risky and dirty oil refinery.
Because of Government's initial focus on natural gas use for electricity generation/co-generation, it would be helpful for readers to consider world electricity supply distribution, by source of fuel, for the most recent year available (see Schedule 1).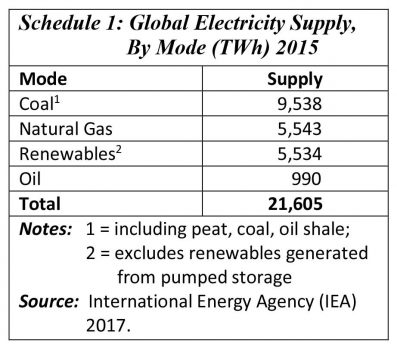 Related data, which are instructive, is the list of the world's top ten natural gas producers for the most recent year available, (see Schedule 2). Of note, this list does not include any South American, African or West European countries!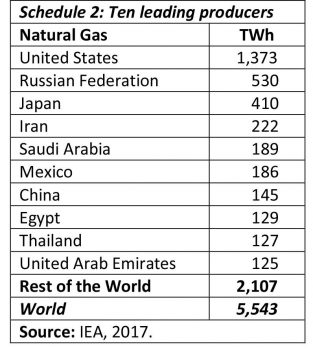 Observations
One of the most important reasons why the strategic market assessment by Energy Narrative is so crucial, lies in the seeming "non-serious" present-day estimation of the natural gas associated/not associated with Guyana's petroleum finds. This is, all the more disconcerting as I have come across press reports, which suggest Exxon Mobil and its partners will be following the industry practice of pumping the natural gas back into the oil reservoirs, in order to raise their pressure to facilitate extraction of crude oil. Clearly the economics of this process, from a Guyana perspective, can, and perhaps will, differ, from that of Exxon-operators of the oil rigs/wells. This is why the outcome of the Energy Narrative strategic assessment will form the basis for my intended Decision Rule 3.
 Conclusion
The benchmark standard for Guyana's oil and natural gas assessment is still the Unites States Geological Service (USGS) 2000 World Assessment of Undiscovered Oil and Gas Resources in Central and South America. There it is reported that the Guyana – Suriname Basin holds a mean probability of 42 billion cubic feet of natural gas (bcfg) and 2.3 million barrels of natural gas liquids. Several press reports indicate that Exxon and its Partners, are presently putting the natural gas estimate at between 30-50 billion cubic feet. As planned, the Energy Narrative report is expected to put a better handle on this estimation.
In conclusion, Oil Now, (May 19, 2017) has reported that Minister Trotman recognizes "cleaner natural gas usage" is helpful for promoting a Guyana green state and also recognizes its potential power generation for value-added production (of alumina)!
Next week I pursue these issues further.
Around the Web