Baba Ganoush shares the same main ingredient as Baigan/Eggplant Choka – smoky roasted eggplant. The two dishes are very similar in texture but they depart when other ingredients are added to give them their signature taste. For Baba Ganoush, it is thick, creamy, nutty Tahini, made of sesame seeds. The addition of fresh lime/lemon juice gives zest to the dip/spread.
This dish of mashed eggplant forms part of the meze (selection of small dishes served as cutters or at the start of a multi-course meal) in places such as Jordan, Lebanon, Israel, Palestine, Syria, Iraq, and in other countries in the Mediterranean where there is a strong influence of Levantine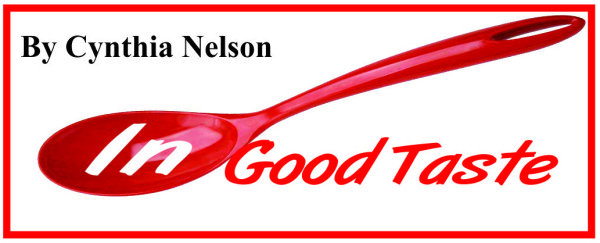 cuisine.
Flat breads, like as sada roti and pita are perfect for dipping into Baba Ganoush. It works as a sandwich spread too! Last week I shared with you the recipe for making your own homemade Tahini in preparation for this and next week's recipe. However, if you prefer to use store-bought Tahini, that's okay. If your store bought Tahini has settled with the oil floating at the top, be sure to stir the Tahini well to emulsify it before using.
For this recipe, I made some additions to suit my taste and you will see that reflected in brackets as options.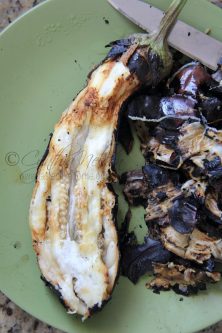 INGREDIENTS
3 large eggplants, fire roasted and pulp removed
4 large cloves garlic, peeled and sliced thinly (optional)
¼ cup tahini
2 tablespoons fresh lime/lemon juice, or to taste
½ teaspoon ground jeera/cumin (optional)
Salt to taste
Minced hot pepper to taste (optional)
2 – 3 tablespoons high quality olive oil (optional)
Minced parsley for garnish
DIRECTIONS
Make deep incisions into the raw eggplants before roasting and insert slices of garlic, if using.
Mash the pulp until smooth and then add the following ingredients and mix well – tahini, lime/lemon juice, cumin, salt and minced hot pepper.
Transfer mixture to serving bowl, drizzle with olive oil and sprinkle with parsley before serving.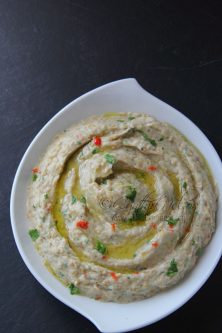 NOTES
The eggplant can be roasted in the oven too, however, if you want the smoky flavour, roast them over an open flame.
The dip can be pureed fine and smooth in a food processor. I prefer the rustic look and feel of the dip simply by mashing with a fork.
TOPPINGS
Chopped cilantro/ coriander can be used in place of or in combination with parsley.
Whole or coarsely chopped olives can be mixed into the dip just before serving or scattered on top.
Smoked paprika and toasted sesame seeds make welcome toppings.
Around the Web