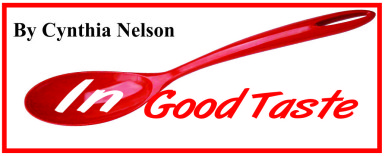 This salad is a meal on its own, but it goes well with grilled or fried seafood, poultry or meat; roasts too. If you're packing food to take on an outing and want to take potato salad, warm is the best way to go. Ditch the mayo potato salad, make, and take this instead.
The ingredients are few and easy to put together. While the potatoes are at the centre of this dish, it is the mustard that is really the star, backed up with the combination of fresh herbs. For this recipe, I recommend using a high-quality Dijon mustard and wholegrain mustard, and do not be shy; you want that tang and bite in the salad. The herbs provide coolness to the spice of the mustard. And the eggs, well, they are just added for good measure and besides, boiled eggs are perfect with mustard and herbs.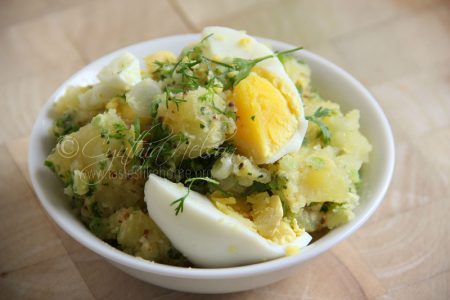 Finally, let the salad rest for half an hour before serving so that the flavours can meld.
INGREDIENTS
3 pounds potatoes, scrubbed, and steam cooked until a knife inserts easily
Salt to taste
Freshly ground black pepper, to taste
1/3 cup Dijon mustard, or to taste
2 heaped tablespoons wholegrain mustard
2 – 3 whole scallions/green onions sliced thinly (white/purple and green parts)
2 stalks Chinese/Guyanese celery, leaves removed and minced finely
1 tablespoon finely minced parsley
¼ cup coarsely chopped fresh coriander/ cilantro
4 boiled eggs, peeled and quartered
DIRECTIONS
Peel the potatoes, cut into large chunks and add to a large bowl, sprinkle with salt and pepper to taste and toss gently – do this while the potatoes are still hot so that they can absorb the salt and the black pepper.
Mix together the Dijon and wholegrain mustard and add to the potatoes, toss gently to coat them.
Scatter the fresh herbs over the potatoes and toss lightly.
Fold in the eggs.
Let salad rest at room temperature, partially covered for half an hour before serving. The salad can also be made a day ahead and be brought up to room temperature before serving; it can be served cold too but the flavour is better at room temperature.
NOTE
The potatoes can be boiled instead of steaming; I find steaming keeps the potatoes in better shape for this recipe. If boiling, cook in salted water to season them and eliminate salt at number 1.
Around the Web