Two Sundays ago, In Good Taste featured Hummus – a Middle Eastern chickpea spread/dip – topped with Tomato Chutney. I have since received requests for the recipe for the Tomato Chutney.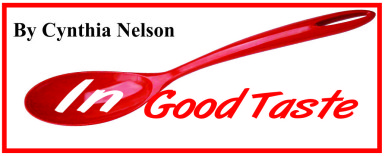 This Tomato Chutney is a South Indian style of chutney traditionally served at breakfast with dosa (crisp pancake like flat bread) and idli (steamed cake made of pureed and fermented black lentils and rice). However, this chutney can be served and eaten with sada roti, paratha roti, chotah, rice and dhal, or even be spread as the base on a pizza. Think salsa as you dip any type of crisp chip into the chutney.
There are two ways to make this chutney – chop and sauté all the ingredients until soft and then puree, or puree the raw ingredients and then sauté until the extra liquid has evaporated and the mixture is thick with a deep rich colour. I prefer the latter option. The recipe I am sharing today requires standard ingredients for tomato chutney but check out the notes for additional ingredients that you can add.
INGREDIENTS
South Indian-style Tomato Chutney
Photo by Cynthia Nelson

1 ½ pounds ripe, firm tomatoes, rinsed, pat dry, and quartered

1 cup coarsely chopped onions
10 cloves garlic, peeled and crushed
Chopped hot pepper to taste
1 tablespoon tamarind pulp, or, to taste (optional, see notes)
4 tablespoons sesame oil (vegetable oil can work)
1 ½ teaspoons mustard seeds
¾ teaspoon whole jeera (cumin)
Salt to taste
DIRECTIONS
Add the tomatoes, onions, garlic, hot pepper and tamarind pulp, if using, to the jug of a blender and puree until smooth.
Add oil to a pan and place over medium heat. When oil is hot add mustard seeds and as soon as they start to pop, add cumin and cook for 30 seconds.
Pour in tomato mixture and toss to mix with spices and oil and add salt to taste. Cook until the mixture reduces, change colour – it will get darker, more concentrated in colour, and the oil separates/seeps from the mixture at the edges or as bubbles in the middle of the chutney.
Remove from heat and pan and place in bowl to cool to room temperature before serving.
Chutney can be made a couple days ahead of use and be brought to room temperature before using. Stored in an airtight container in the refrigerator, the chutney can last for 2 weeks.
NOTES
Tomatoes, even when ripe tend to be tart so you can omit the tamarind pulp if you like. Alternately, you can add a little sugar to the chutney to balance the tartness but not so much that it makes the chutney sweet.
A tablespoon of chopped ginger to the ingredients to be pureed gives additional flavour.
Nuts, grated coconut, can be added to the chutney. However, you will need to sauté the nuts/grated coconut with the other ingredients first, then puree the chutney.
Around the Web