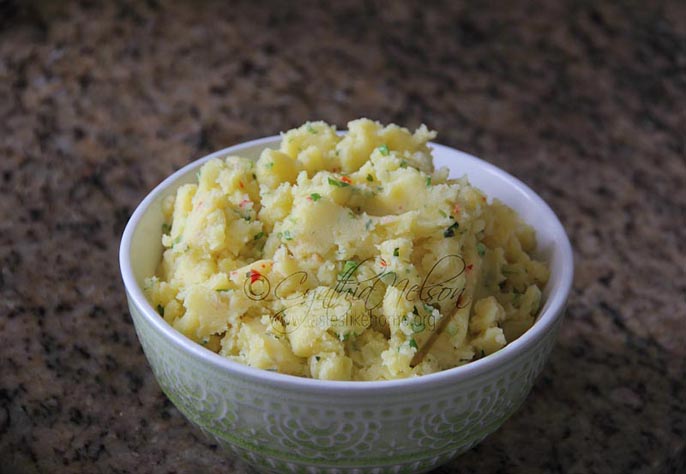 Potato Choka is simple and very tasty. In many ways it can be thought of as spicy mashed potatoes, but it's not the same thing.
It is always easy to quickly make Potato Choka because all the ingredients are everyday staples – potatoes, scallions (green onions), onions and hot pepper. Mommy used to heat some oil and add it to the choka but I saw a friend of mine in Trinidad take it a step further by frying slices of garlic, infusing the oil and then adding the garlic and oil to the choka. That's the way I've been making my potato choka now, for years. I call it Garlicky Potato Choka. And as usual, I have added my own twist to it – I mash a piece of preserved lime giving the choka a hint of citrus. Can you image it? Citrus and garlic?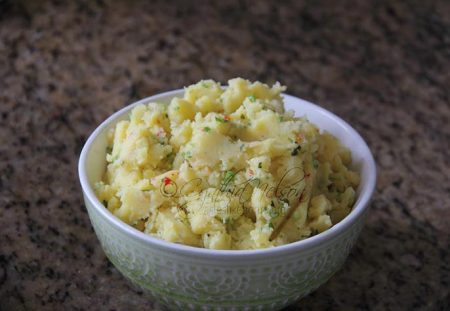 I'm not doing measurements for the recipe, let your taste guide you and work with what you have available.
INGREDIENTS
Potatoes boiled in salted water
Preserved limes, finely minced, to taste (see notes)
Finely minced hot pepper, to taste
Thinly sliced scallions (green onions), green/purple and white parts
Vegetable oil
Finely minced garlic
DIRECTIONS
Mash the potatoes while they are piping hot with the preserved limes until smooth.
Mix in the pepper and scallions and set aside.
Add a little oil (about 2 tablespoons) along with the garlic and place over medium-low heat. Heat until the garlic starts to sizzle and turn golden. Remove from heat and immediately pour the garlic-oil mixture over the choka and mix in well.
NOTES
Use fresh lime juice in place of preserved limes but add it just before the heated garlic-oil mixture.
There should be no need to add salt to the choka if you cooked the potatoes in salted water – that is the best way to season them.
If you have and want to, you can add some chopped fresh cilantro/coriander.
Around the Web