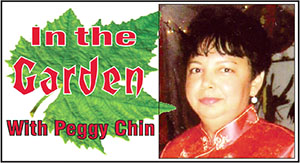 Years ago, climbing roses were among the most precious flowers to adorn a garden.
As the name indicates, climbing roses like to climb. The most popular uses include covering arches, pergolas, side walls and fences.
There are two basic types of climbing roses – ramblers and climbers.
Ramblers have been around since Victorian times. Growth is vigorous with long pliable stems bearing huge trusses of small flowers.
Climbers have much stiffer stems with larger flowers and smaller trusses.
My uncle in Canada planted two magnificent climbing roses alongside his garage wall with the support of a sheet of plastic lattice work, the rose bushes filled out nicely within three months. By the time I visited, the entire lattice sheet was covered with leaves and roses.  I counted 40 roses with more buds to follow. The scent was heavenly. He had one of the best display of roses in his area. Everyday passersby would stop to admire the roses and to take photos. It was a sight to behold. During fall when it began to get cold, he would cut back the rose bush and leave it to come up back the following year.
Until next week, Happy Gardening.