National Tree Planting Day was celebrated yesterday, October 7, and it was interesting to see how many new trees were planted. This exercise must be encouraged and hundreds of trees must be planted every year instead of just a few. There must also be proper maintenance and care for these trees until they can fend for themselves.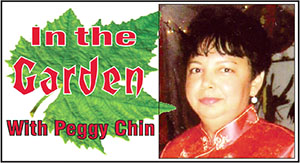 It is sad to see the state of our older trees. They are so neglected. One would have thought that with all of the information available on how to care and groom them the city's trees would have been in better condition.
Here is an excerpt from an interesting article I came across recently: "A small Asian country, Bhutan encourages it citizens to plant trees. When a child is born the parents plant a tree to celebrate his or her birth."
This is so wonderful. Life and growth to follow that child. Trees help us to breathe in clean air and it is our duty to save them. This is a great idea which we should adapt. The next time you have a celebration why not mark it by coming together and planting a few trees? Generations to come will thank you.
Until next week, Happy Gardening.
Comments

The Begonia commonly called Shell Rose was first discovered in Brazil by a Franciscan Monk, Charles Plumier in 1690, who named it after his favourite Botanist Michael Begon.

Asters commonly called Michaelmas Daisy are native to the USA. In the US, Asters bloom from May/June until late October, while in the Caribbean and Guyana Asters bloom all year round.

Alpinia zerumbet commonly called Shell Ginger originated in South East Asia and Hawaii and comes from the Ginger family.

Leea Indica commonly called Bandicoot Berry originated in Asia and Australia. It has green foliage and is the sister of Leea Coccinea 'Rubra', which has similar traits.

Leea Coccinea 'Rubra' commonly called Hawaiian or West Indian Holly originated in Burma and comes from the Leeaceae family.