Marvel of Peru or Mirabilis commonly called Four O' Clock flowers originated in Peru and is native to tropical South America.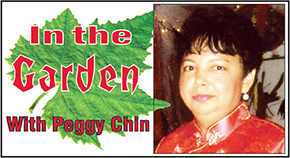 Four O'clock is a bushy plant which thrives in full sun.  Like its name, Four O' Clock flowers late in the afternoon with fragrant blooms. It come in shades of Pink, Yellow, White, Magenta and also bi-colours which would brighten up any corner in the garden.
Four O' Clock can grow to a height of approximately two feet and blooms profusely. To create an impact plant it in clusters. This plant will self sow from seeds it produces. It is considered an annual.
Fertilizer with Miracle Gro Bloom Booster Plant Food once every two weeks or with Blue Corn.
Until next week, Happy Gardening.
Comments

There are many types of pine trees and in Guyana some people tend to confuse the names and varieties.

Many of you would have received potted plants as gifts and with the holiday season having ended, I have received many telephone calls on how to care for these new plants.

Thuja originated in Denmark and comes from the Cypress family; it was after World War II that it spread across Europe, then to Asia and North America.

It's here! Just in time for Christmas. Last weekend, I received the most beautiful, potted, red, velvet-like Poinsettia evoking the spirit of Christmas.

The Begonia commonly called Shell Rose was first discovered in Brazil by a Franciscan Monk, Charles Plumier in 1690, who named it after his favourite Botanist Michael Begon.