Born and raised in Guyana, and coming back every year as a visitor since 1968, I assumed I knew the country well.  I was familiar with the swings of the independence years, and then I was living here again from 2008. So when, just a few months ago, I heard talk about a state-of-the-art heart care unit at the Georgetown Public Hospital ago, I was sceptical.  How come I had never heard of it? It is truly an amazing story that there is indeed a facility of such standard here, treating hundreds of patients, free of charge, and it is so little known. That is something we certainly need to be shouting about, and so I'm making my own noise on the subject today, passing on to you some of what I've learned in the past couple of months.
The story of this remarkable Cardiac Intensive Care Unit (CICU)  in Guyana begins in Calgary, Alberta, Canada when Dr Debra Isaac, Cardiologist and Professor of Medicine at the University of Calgary,  was approached by a Guyanese colleague, Dr Kishan Narine, to donate some equipment to help diagnose heart disease at Georgetown Public Hospital.

Dr Isaac remembers: "When I came here with my husband Dr Wayne Warnica in January 2012, nobody knew how to use the ultrasound equipment we were looking to introduce or how to diagnose the results. So we met with the Hospital CEO and the then Minister of Health, Dr Bheri Ramsaran, and we decided to begin essentially an education/training approach to achieve sustainability in a limited health care facility."  And that is what they have been doing for the past five years, with very little public spotlight turned on them.  Embarking on the project, the doctors were soon to learn the scale of the undertaking.  Dr Warnica said, "We started really small, but we soon saw there was much to do.  I would see more heart problems in a week in Guyana than I would in a year in Canada where problems are picked up early and treatment follows. That was a wake-up call."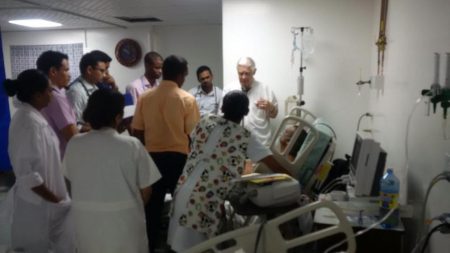 I was to hear that early surprise echoed by another Canadian cardiac team member Dr Karen Then, a Professor of Nursing at Calgary University.  "I look at the hundreds of patients we've seen here who had heart attacks and heart failure. Heart disease is huge in Guyana; people don't realise how widespread it is. Many are not aware they have a condition, or they realise it but it's too late. One of the hardest things is to see people suffer tremendously with this ailment when with early intervention and prevention they wouldn't be so affected."
As Dr Isaac put it, "When I saw the state of things, I realised we had to get fully involved to get it right. So we started with the Echo unit, then the training in how to treat patients.  In effect, heart disease is an epidemic here, but people are not educated about heart disease, therefore let's teach the physicians and nurses how to deal with heart failure.  So with the support of Dr Mahendra Carpen, the only cardiologist in the Guyana public system, we set up a cardiology service and identified a few people for training." One of the first was Dr Terrence Haynes who did cardiology for two months in Calgary."  The Canadian doctors also began the training of nurses which started in the first week. They assessed the level of the local staff and designed programmes to develop them further. Nurse Matrina Daniels, one of that early group, said, "The hardest part is that it is a heart specialty programme so we have to learn new things, in depth, very quickly, and that this work saves lives. It has been an opportunity to learn, because it is free education and we have gained so much knowledge to now provide better cardiac care."  Nurse Julieann Callender concurs: "These are often long-standing cases, you see the patients every day, you get to know them personally; if something happens to them, it affects you. You help them and you get to send them home happy."
Looking back, Dr Haynes said, "At George-town Hospital we started with a little space, 6 beds. Before we never had a cardiac intensive care unit, now we have that with 14 beds. We have a heart failure unit. There is an area where we have an ECG lab; we have a Stress Testing Unit, we have an Echo Cardiogram Lab. Those things were never available. Now we have them; more and more patients are coming to see us and our mortality rate has dropped in terms of heart disease."
Dr Isaac points out that the health problems in Guyana were beyond what she had anticipated. "We quickly saw that 40% of the echo-cardiograms we were doing … [were] on children and two-thirds of them had heart disease. We realised we had to develop a paediatric cardiology programme for the local practitioners, not only how to do the cardiograms but how to interpret them and how to manage these young patients. We would see a 5-year-old with four things wrong with her heart.  It is wrenching."  With tears in her eyes, Dr Then volunteered, "The cases would get to you. I remember one night, with a very ill patient, I was praying 'Please don't die on me.' That same guy came in today and gave me the biggest hug and said 'thank you'. He's fully recovered. It's really rewarding when you see the difference this programme is making."
And the feedback from the patients is striking. One patient from the East Coast, said: "We are a Third World country and finances are scarce. These people from Canada gave their input and everybody helped and now you start to see differences around here." He indicated the CICU.
Dr Isaac sums up the official opening of the Cardiac Intensive Care Unit as "basically a recognition that what we have created is a full, proper, cardiology service here that is giving high-quality care to the public, at no cost."  Says Dr Then: "The programme is here to stay and its achievement by the participants and the ministry is something we did and is recognised.  That is huge.  The recognition is huge, but the people who contributed are not doing it for the recognition; we're doing it for the people of Guyana."
In a clearly heartfelt speech at the official launch of the Cardiac Intensive Care Unit, former Minister of Health George Norton had said, "On behalf of the Government of the people of Guyana I take this opportunity to express our heartfelt gratitude to the University of Calgary and especially to Dr Isaac and Dr Warnica for all of the work they have been doing to improve cardiac care in Guyana.  They have demonstrated to us what is being human rather than just being a human being."
Even for someone who has no medical experience, like me, to spend even half an hour in the heart examination and treatment CICU is to appreciate the very high standard of care in the facility, and that we need a concerted thrust to get the public to know what Guyana now has there.  Dr Norton expressing "heartfelt gratitude" to the Canadian team driving the project is a fitting tribute, but more attention should follow. There should be billboards in town, and thrusts from the media like this one, but also television and radio awareness of this fully functioning unit here bringing outstanding cardiac care to our community and, as others have emphasized, that the work is provided free to us.  Most Guyanese do not know about it.  We need to raise the shout, widely and often, so that all who live here can spread the word about this heartening heart-care story. It is truly a feather in the cap of all who have contributed so generously, and for so many years, to what is a unique consideration of mankind by mankind.
Around the Web