A few days ago, the Prime Minister of Jamaica, Andrew Holness, and the President of the Dominican Republic, Danilo Medina, agreed to work towards a closer relationship.
Beyond the widely-reported desire of both nations to increase trade and investment, the language contained in the joint declaration that followed their meeting in Santo Domingo suggested that the two countries may be seeking something more.
It indicated an interest in finding new ways to address inter-regional and external relations through the creation of a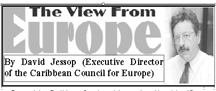 bilateral agenda that, as the document put it, could result in "a convergence in positions that address regional and international issues of mutual interest".
In the joint declaration, Jamaica broke with the previously negative language that Caricom has adopted about the Dominican Republic since 2013, emphasising instead its belief that the two nations share a track record of "defending values and principles with respect to democracy, protection of human rights and respect for the rule of law". It was also agreed that it was important for both sides to increase trade and bilateral investment "in an equitable way" to exploit the potential of both economies.
In an apparent recognition of the need for improved regional coherence in international trade negotiations, the official statement said that both leaders emphasised the importance of working more closely in Cariforum and the importance of strengthening bilateral coordination to promote a regional agenda on issues such as Brexit, the future of the ACP group, and negotiations for a post-Cotonou agreement with the European Union.
The visit placed emphasis in the near-term on increasing co-operation in tourism, with both sides agreeing to sign an agreement on multi-destination tourism at the earliest opportunity and on finding ways to develop direct air links.  There were also agreements on other issues that will help facilitate a closer relationship; a meeting with the private sector to flesh out possible economic complementarities beyond tourism; and an understanding that President Medina is expected to visit Jamaica soon.
The official visit ‒ the first in 34 years by a Jamaican Prime Minister, despite the geographic proximity of the two nations ‒ would appear to reflect Mr Holness's previously expressed interest in deepening economic ties with nations with complementary economies in the Northern Caribbean (Jamaica, Cuba, the Dominican Republic and the Cayman Islands).
The joint declaration, may also hint more generally at the evolving and different thinking of the Holness government about inter-regional relations and economic growth. Last year, Jamaica's government commissioned a review of the country's relations with Caricom under the chairmanship of a former Prime Minister, Bruce Golding, who was charged with examining ways in which Jamaica can secure better value from the processes of regional integration and cooperation within the wider Caribbean region. Reportedly this document is now with Prime Minister Holness and the Jamaican cabinet for review before being tabled in Parliament.
What the visit suggested is that not only has the global political and economic landscape changed, but that the Caribbean is becoming a very different place to when the revised Treaty of Chaguaramas establishing the Caribbean Single Market and Economy was signed in 2001. It also suggested the possibility that a moment may come when the economic reconfiguration of the Caribbean is required if Caricom is unable to progress or to implement decisions.
Speaking recently at the opening of a meeting of Caricom's Council for Trade and Economic Development (Coted), Caricom's Secretary General, Irwin LaRocque, recognised publicly the implications of the implementation deficit.
Noting Caricom leaders' concern that some of their decisions were not being complied with, he warned that "the Council itself was [being] hampered by non-compliance with its decisions", suggesting that "the failure to adhere to the rules of the integration movement posed a threat to the credibility of the Commu-nity".
While Caricom has struggled to make the CSME work, and is seemingly disinterested in making progress on deepening its economic relations with the Dominican Republic, Dominicans have seen their economy advance consistently, so that in 2016 its annual growth rate at 6.1 per cent was reported to be the highest in the Americas.
It has also forged new trade arrangements, for instance, recently agreeing to negotiate a partial scope free trade agreement with Cuba. This is expected to lead by the end of 2018 to the two largest independent Caribbean economies negotiating significant tariff reductions, easing non-tariff barriers, and harmonising phytosanitary and other regulations that currently impede trade between the two nations.
The implication of the Holness visit is that Jamaica has recognised that bilateral political and economic engagement with the Dominican Republic offers real benefits.
If new thinking of this kind is to have a wider application, the Dominican Repub-lic and Caricom need to overcome their differences. If not, where complementarities exist, other nations will find ways to deepen their bilateral relationship. Unfor-tunately, what is missing still is any region wide pragmatic discussion about the economic gains that could be achieved from a closer relationship with much larger neighbours including Cuba, especially if trade asymmetries for smaller states in the region could be created.
Any such change also requires the Dominican Republic to overcome its reservations, do more to develop relations with Anglophone Caribbean nations, and take government-led steps to offset the national negativity created by historic prejudice, and Caricom's strident criticism of the Dominican Republic's response to its efforts to regularise the position of undocumented Haitians.
Jamaica's and the Dominican Republic's initiative, and others of the kind undertaken last year by Antigua's Prime Minister, Gaston Browne, suggest that there is a growing recognition that Caricom is likely to make little progress as a bloc of 5.5m English speakers unless some or all of its members find a way to embrace the significantly more populous and larger economies of the Hispanic Caribbean.
Previous columns can be found at www.caribbean-council.org
Comments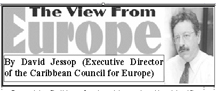 Just over a week ago the US administration published new regulations governing travel and trade between the US and Cuba.

In just over a week's time, Jamaica will host a major international conference intended to reposition tourism as a global driver of sustainable development.

In a few days' time, CARICOM's Council for Trade and Economic Development (COTED) will meet.

On October 10, a report appeared in the Russian media indicating that Russia and Suriname are close to signing a military cooperation agreement.
In most OECS nations, citizenship is available at a cost. It can be purchased by almost anyone who can afford it.