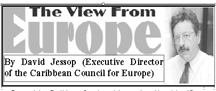 A new and potentially challenging way of thinking about the future of tourism is evolving. It sees the industry as having an economic purpose that is quite different from the role it presently plays in much of the Caribbean.
The new paradigm requires that travel and tourism contribute to development in a sustainable manner spreading the capital it transfers more equitably and widely in host destinations. It also requires those involved in the delivery of tourism to adapt its product and services in ways that support a broader agenda. It suggests that governments, airlines, hotels, cruise lines and other selling the tourism product look beyond profits and taxation to explore how the sector might become a driver of social change.
This was the overarching theme of the just ended United Nations World Tourism Organisation (UNWTO) conference held in Montego Bay, which was organised with the support of the Jamaican government and its international development partners.
The background to this significant ….