"I am a businesswoman and I don't want my business to go down but sometimes it really gets hard because everything comes in one time and even though you explain to people they still asking you to try and me with me good heart I can't say no. But it getting to me because I getting the bad name and next year I promise that I not doing it."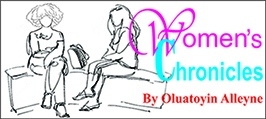 Words spoken by a flustered seamstress who in her own words took "a battering" because she was unable to complete uniforms for mostly school children and teachers in time for the new school term.
Because I heard some of the complaints and I have known the seamstress for several years I approached her on the issue…..
To continue reading this article
Comments

"For me the experience was life changing because in there, I had enough time to think and to figure out what I really want to do with my life.

"When I hear the verdict, not guilty, it sent me in a rage.

"I am now waking up from the shock. You know, initially, I was in shock but now reality is stepping in and I am feeling emotional.

"I was just 15 when me mommy tell me she sending me for a better life.

"You think I am happy?" she asks, her panting signalling that her baby is getting more difficult to carry by the minute.