"I grow up on the market, since I was a child. Me mother had 14 children and it was really hard because since we growing we sleeping on the market. But I don't want that for me children, I does try as much to don't get them in the market, I want better for them."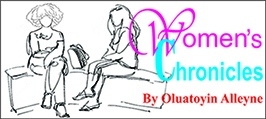 Words of 36-year-old Kim Rampersaud a popular provision and greens vendor on the outskirts out Bourda Market in Bourda Street. The mother of eight was having an afternoon a chat with some other vendors when she was introduced to me by a regular customer. I explained I wanted to interview her and gave her the option of talking to me anonymously.
"No, I don't care if you carry my name, wah I guh tell you is about life because being a single parent on this market is not easy you know. Me ain't telling you no lies and I not talking about nobody else I talking of me and me life," she said, acquiescing to my request.
The conversation took place in the hot afternoon sun, a few meters away from her stand even though she keenly kept an eye out for her customers and dealt with them as she shared her life's story; we both sweated profusely.
"I start working at a early age just because my mother was a single parent, my father gone and she had to maintain 14 of us and I had to help her to assist some of the small ones while I is a big one going to school.
"Helping she to work, helping she to get money to give some of the small ones and sometimes I frustrated… I had to come out of a school at a early age in third form because of circumstance. We get throw out the house and we ain't had nowhere to live; we had to live on the market," she said quietly but rapidly.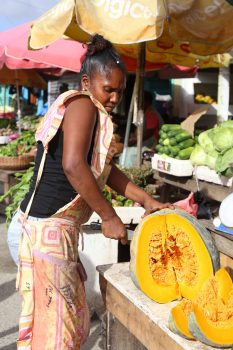 "From since then I take boyfriend early," she added with a coy laugh. "I meet a guy, a big guy he was older than me and he take me and make me a woman and I get pregnant and I get me big daughter."
She was just 16 years old at that time.
"I ain't get tomato till tonight I guh get," Kim abruptly broke the conversation to address one of her enquiring regular customers. I never heard the question from the customer, but Kim kept a hawkish eye on her stand even as she shared some of her life's story with me.
"He take me and make me a woman and I had to try and I end get pregnant again and I get me son and then he go and die and so I lef with the two children," Kim continued the conversation as if there were no break.
The man died from malaria.
"But he use to maintain we and we use to live as a family but when he die I end up being single parent and I had to fight for the two and I end up meeting another guy. But which-in I maintain the two because things was that hard because he [her dead partner] mek me a woman because he buy this same stall fuh me and a house.
"At least that was the best part. Because he give me a foundation so I use to work and send me children to school. Because you know I grow on the market is the market he meet me and after he see me punishing, sleeping here, sleeping there he say no I guh buy a house to make me more comfortable and then he die."
I asked her if she still has the house or lost it on his death.
"Yes I still have it, I actually have three now, the one he bought is in Sophia but because of the circumstances where people robbing you and so I don't really live there anymore but I have me brothers does live in it. I buy a house and does live in South now," she said.
She does not rent any of houses and said when her children get older they would inherit same.
"Well a meet me other children father and the two of us work together and get the house she shared easily.
Are you still with him? I asked.
"No, we separate after I end up getting three other kids thinking you moving forward again he end up erring and I end up moving on again meeting somebody and getting three more children and he move to the States. And he never really like send anymore or anything.
"But I stand like a man and a woman fuh me children, giving them education and right now six in school. The big one she write CXC and she had to write over Maths and English and she pass now and she now get through with a work. And the boy he write six this year and he pass five, he fail Maths but he with me now helping me out, a give he a breathing space but next year he would write back Maths and he said after that he want to go in the army," she said with obvious pride.
Turning to her life on the market.
"Sometimes I does sleep on the market because if you have to wait fuh load by is me alone travelling where a living sometimes a does be scared and I might stay in de market and sleep in de car (her car is parked opposite her stall) and when day clean go home and bring them out to the school," she said.
"Good afternoon," she broke again to speak to a customer who wanted nothing but was greeting her pleasantly.
"The big one does help with the pick up in the afternoon of the smaller ones so it does be a little more easy. In the morning I does come out about after nine because I have to drop six a dem to six different school and I would stay out until ten, eleven o clock or sometime whole night."
'Not something nice'
I asked her how it is being a market vendor.
"It is not something nice," she quickly as soon as the question was out.
"You go through a lot, especially is not somewhere to bring up you children because you hear a lot of people curse. If you out here you have to know to cuss and fight, you can't be too easy because people ride you. You have to know to handle you self, I would put it in duh way, handle you self," she said.
You ever fought? I asked.
"Steady," she said with a laugh.
"I stand up fuh me right especially with the junkies. Well some customers they would low grade you… but I don't really tek them on because I know it is a honest living and I proud of what I doing especially when it comes to me children.
"I don't have my children out here, only weekend I might bring deh boys out to assist and I don't want them to be a vendor because as a mother wah you go through you don't want your children to go through the same thing.
"That is why I does make me sacrifice and stay out here so I could send them to school to get a education, I don't play with that I does try me best and send them to school.'
I asked about her mother.
"She is still alive and a vendor and the majority of my sisters are vendors, like five of us are vendors," she said even as she boasted that one of her nephews is at the University of Guyana even though his mother is a vendor.
While Kim considers herself a single parent she admits she has someone in her life.
"Yes, I have somebody, he bigger than me and he use to live with me and I respect he because of the way he respect me and my kids. He was a teacher, he try to train them and help me because you know sometimes I would go wrong in how I deal with them. He was a man because at least what dem father didn't do he do, but he lef and go a way to the States."
They are still together.
"I would make like $50,000 a week but the bills, the bills. But right now a done pay fuh deh car and is only me mortgage fuh the house and that will done just now. But I have lesson fee.
"When you come back I want a bag of cassava, you hear," she said almost simultaneously to one of her providers who was passing at the time.
I asked her again if she was sure she wanted her identity to be known as we wrapped up the conversation.
"No, I don't mind because sometimes people might feel that you get things easy but it don't be easy, you does go through a lot especially when you is a single parent but you just have to keep smiling.
"So I don't mind you putting my name in the newspaper."
Around the Web