Contemporary gospel artiste, songwriter and producer, Melissa Vandeyar has been singing for many years but she created quite a stir in the gospel arena with her recently released first original single "My Ashes".
"According to my parents, Ivor and Desiree Vandeyar, I've been singing since I was able to talk, but from as far I could remember I began singing from the age of five," Melissa said in a recent interview with The Scene. "… Love for music was inculcated in me at a very tender age. I grew up hearing my mother sing and it was she who first taught me how to do so properly."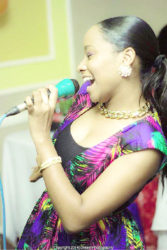 Cece Winans' "His Strength is Perfect" was the first cover Melissa sang in front of a crowd. "You would expect a child that age to be nervous or shy, but I wasn't. I was quite bold. My focus at that time was just to go out there, sing the song the way mommy taught [me], and get off the stage. I hadn't learned about engaging the audience as yet so most of the time on stage my eyes were closed, but I sang that song the best I could," she recalled.
The performance triggered many more performances as she sang in church, at her nursery school (Starters Nursery) and right in her yard loud enough for her next door neighbours to hear. These would have been her very first set of audiences which eventually would lead to something bigger.
Her best place to get going is in her bathroom and remains so to date as she revealed, "My bathroom has the best acoustics in my house. It's the best place to rehearse."
As a soprano, she ranges between A2 and D6 which she considers as her comfort zone.
The young songstress is inspired by the legendary Yolanda Adams "for all the vocal control and sophistication she brings to singing gospel music" and Jessica Reedy as well for her amazing low register. "Everybody these days wants to be a soprano but Jessica's breaking ground with beautiful low notes," she noted.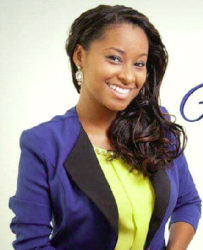 Music has taken Melissa across Guyana with various organizations. As recent as November last year Melissa toured with the Courts Road Show Team as the Road Show Champion, visiting branches at Bartica; Linden; Richmond, Essequibo and New Amsterdam, Berbice.
Of the many audiences she would have serenaded over the years, none matters more than the day she sang to her father while he sat in church one Fathers' Day. He was so touched by her sweet melodious voice and for the reason she sang that it brought tears to his eyes. "My father always tells me that when I sing I bring tears to his eyes. I got the chance of witnessing this first hand when I sang for him on Fathers' Day in 2014. I love my father. It moved me to see him moved by my song."
Melissa has a good fan base given her mesmerizing voice, but said her best supporters are her parents who have sacrificed much for her to be where she is today.
Although contemporary gospel is her thing, she hopes to give Soca and Reggae a try sometime in the near future, stating, "The new year will have some surprises."
Being a new artiste she has not yet encountered many challenges. Melissa indicated that music has not been getting the focus it needs in the schools where it is offered. "I wish that music [would] be given more attention in schools. I believe that had I been exposed to playing a wider variety of instruments, I would have been a much better singer than I am now," she said.
And even though she has not faced her share of challenges "as yet" Melissa said she is quite aware that the music arena is no bed of roses for other artistes like herself. "Guyanese artistes in general do not receive the support they should be given, particularly where the copyright laws are concerned. It is very costly to record, mix and master a song in Guyana. However, one is deprived of return on investment because your music can be downloaded from the internet and sold without your consent."
Melissa also pointed out that gospel artistes in Guyana do not receive much support as foreign artistes do as it relates to attendance at shows. "A concert with all local artistes will see fewer numbers of people than a concert with one or two foreign Gospel artistes," she pointed out. She noted that while she supports persons who want to make an honest living if they want to sell the music of the artistes then they should purchase the original CDs and then add their markup price to make a profit.
"This way both you and the artiste will have a return on your investment. [In addition] Guyanese should support their own. The support that is currently being given is greatly appreciated but we all know that a greater effort can be made," Melissa shared.
Currently Melissa works at the Paradigm Studio as the Background Vocal Coordinator of the Comfort Zone Gospel Label; she is also a final year student at the University of Guyana where she is pursuing a Bachelor's Degree in Public Management. Melissa is also a part of a quartet called Yadah (Hebrew word meaning, to worship and praise with extended hands).
The former Bishops' High student also has an Associate of Arts Degree in History attached to her list of credentials.
When her time is not taken up working and studying Melissa enjoys the company of her family and friends, learning something new or taking a nap.
Her hobbies include travelling, trying new restaurants, winning Instagram giveaways, movies or reading adventure novels since she said she is still a child at heart.
Melissa has also released with Yadah "My Will" and her first cover "Drummer Boy" in December. Later this year she is scheduled to be on tour with fellow artistes of the Comfort Zone Label promoting their first collaborative album 'The Reveal'. The dates are yet to be announced.
Around the Web