Last week the Caribbean Voice held its second annual El Dorado award and show ceremony at the Marriott Hotel which saw several individuals and organisations receiving recognition for their work in Guyana on social ills such as suicide, domestic abuse, human trafficking, alcoholism  and drug abuse and fighting stigma and discrimination against the LGBT community.
The event was emceed by popular radio and TV host out of New York and Shanaz Hussain from Shanaz Musical Sensation.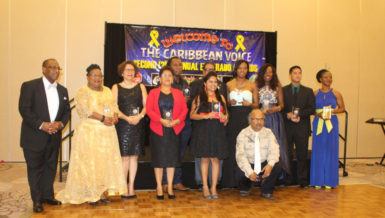 Among the awards given was the Arapaima Award which recognizes the youth achievement characterised by activism and/or advocacy or charity and giving back in a significant manner. This award was presented to leading youth activist Godfrey Scott and also to the Enterprise Youth Development Group headed by Samantha Sheoprashad.
The other awards that followed were the: Maticore Queh Queh Award presented to the Anna Catherina Islamic Complex and Guyana Cultural Association, Umana Yana Award copped by the Macushi Research Unit and Guyana Responsible Parenthood Association, the Victoria Regia Award given to Sham Tilak of Save Abee Foundation, SASOD and Monique's Helping Hands. The Green Heart Award was won by Imran Bacchus and Sons, the Kykoveral Award given to Krishnadat Persaud and Shabakie Fernandes and the Canje Pheasant Award was presented to Capt Gerry Gouveia of Roraima Group of Companies and Dennis Charran, Managing Director of Comfort Sleep. Further awards included the Caribbean Voice Award which was awarded to the late Diane McTurk, internationally recognized conservationist and animal protection activist. The award was accepted on her behalf by Minister within the Ministry Indigenous People's Affairs Valerie Garrido-Lowe. The Pakarimas Award was given to Sattaur Gafoor of Gafoors and Jean La Rose, internationally recognized Amerindian activist and the Dr Faith Harding/Lionel Peters Award which was a surprise award that was given to Caribbean Voice Director and Coordinator Nazim Hussain presented by President of Caribbean Voice Anand Boodhram.
During the award show there were cultural performances by iconic singing star, 'the Guyana Baboo' Terry Gajraj, former two-time Chutney Monarch Roger Hinds, reigning 2016 Chutney King Bunty Singh and his son the reigning regional junior calypso monarch Prince Krish, Satish Udairam, Celia Samaroo, Vishnu Rasul as well as tassa and African drummers, Indian and African dancers and the teenage singing sensation Haresh Singh.
Caribbean Voice acknowledged its partners in making the event a success: Marriott Hotel, Save Abee Foundation, Galaxy 21 Communications, Team MMR.
Around the Web