This year, Sonia Noel celebrates 20 years as a designer and according to her though there have been trials her passion for the fashion industry that got her this far and will keep her going for years to come. In a press write up, Sonia said her dream began in her home town Bartica and it was driven with the help from others. The limited options in fashion saw Sonia begin teaching initially, but through the years she was also designing for herself, friends and family.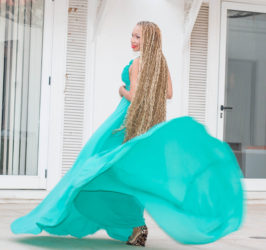 In her early twenties, she took a leap of faith and started her own boutique, Mariska's Fashion, named after her elder daughter. She sold imported clothing but wore her own designs which sparked interest and was the catalyst for the launching of Mariska's Designs.
Since then Sonia has not looked back and her designs can be worn from the beach to the ballroom. She boasts of dressing from housewives to First Ladies.
Former Destiny's Child member, singer Michelle Williams had included a poncho from Sonia's 'First Resort' collection in her touring wardrobe, during her stint with FELA. It will be recalled that Michelle appeared on US national television in the poncho and this design was mentioned as a fashion must-have in Essence magazine's 2013 spring/summer style advisory. It was said to be a "monumental milestone for a Caribbean fashion house."
Additionally, wife of renowned St Lucian Jazz musician, Ronald 'Boo' Hinkson, Donna Hinkson, attended last year's 58th annual Grammys wearing one of Noel's pieces, which reportedly created quite a stir.
Over the years, Sonia has received many local, regional and international awards for her contribution to the fashion industry and her philanthropic work.
She founded Guyana Fashion Weekend (now week) in 2007 and Guyana Model Search and Designers Portfolio in 2008.
She has also participated in fashion events and exhibitions throughout the Caribbean, US, Canada, Spain, China, India and London and was featured in numerous publications around the world. Her inclusion as one of the seven regional designers selected to show in Fashion Engage London 2012, during the Olympics, is another achievement. And back in 2008, the Government of Guyana commissioned her to head the fashion component of CARIFESTA X. She has also done many charitable work and now produces the annual charity show 'Style Mission', which raises funds for a selected charity.
To mark the 20th milestone, Sonia will be presenting 'Beyond the Runway', which the release described as exciting programmes that will be created for TV, radio and newspaper columns in Guyana and the Caribbean.
Starting this Monday, Sonia can be joined daily on Radio Guyana and the Caribbean Broadcasting Network from 6.45 every morning.
Around the Web