After years of participating in the Miss Caribbean Talented Teen pageant Guyana finally got some success when Miss Guyana Talented Teen Aliya Wong was adjudged first runner-up at the December 30, 2016 pageant in St Kitts and Nevis.
In an interview with The Scene Aliya said she was pleased to have made "my country even more proud by placing first runner-up in an international pageant."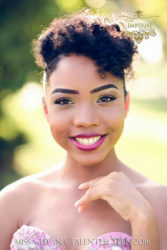 She said she was elated to show that Guyana has true talent and remarked that the competition "was on fire with pure talent, beauty, and intelligence; the girls were amazing." It was more than her 'A game' that gave her the success, as according to her she made sacrifices and it was all worth it.
Aliya described her time in the Caribbean island as pleasant, as she enjoyed the food, the culture and the hospitality of the people.
She said she and the other contestants, "had so much fun; we bonded like old-time friends. It was great experience learning about the Caribbean countries and their own unique beauty. The committee members were very hospitable and didn't fail to create that amiable ambiance to erase any tension there was and our security and welfare were well assured. Overall my experience was one to remember; simply amazing."
Aliya on the night of coronation wore Keisha Edwards of Sha Sha Designs; a turquoise peau de soie gown, representing the vibrancy and richness of Guyana's flora and fauna. The bodice and the hemline of the gown were adorned with black and silver stones, a nod to Guyana's sparkling minerals and prestigious stones. The gown opened at the waist to reveal an overlapping and intertwining of symmetrical black lines, the black in the Golden Arrowhead, which represents the endurance that will sustain the forward thrust of the Guyanese people.
The different categories of the pageant were: theatrical appearance which was themed 'Moulin Rouge' and included an ambassadorial speech on an issue that is faced in Guyana, the Caribbean and worldwide; the evening gown segment; the interview segment based on their biographies; and the talent segment.
Nine girls competed and it was Kadeema Blanchette from the host country who became the teen queen for 2016-2017.
Meanwhile, Aliya said she is awaiting the itinerary for this year from The Imperial House, which will be given to her at the end of this month. "The plan is to work on an event each month including my work with the Bless the Children Home Orphanage so that I may be able to balance my academics and other activities while still fulfilling my responsibilities to the crown," Aliya said.
Chairman of The Imperial House Wazin Khan said the year ended on a high note. He added, "The Imperial House entered a contract with Ms Pamela Dillon (Simpli Royal) to lease the Miss Guyana Talented Teen Franchise for a year…
"I think we have made a positive impact on these young ladies' lives and that was our goal, to make them better versions of themselves. Among other things we want to continue in this manner, empowering our young women."
Dillon confirmed that this is so. And as regards this year's pageant, she said that Simpli Royal was "currently negotiating with the National Cultural Centre for a date in August… and applications open in March."
Around the Web