As Trinidad and Tobago (T&T) carnival celebration creeps up another song has been released to hot up the masses, "Wajank" – a T&T slang defining a person who acts in an irresponsible or reckless manner.
The song was written and sung by Keston 'D' Chancellor' Harris and produced by 'Scrappy Da Rydhim God'.
A press release indicated that the New Jersey-based singer-songwriter revealed that the inspiration behind the track was derived from a conversation with his sister in which they reminisced about the unique local slangs used during their youth growing up in Trinidad.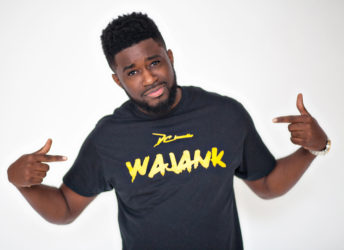 "This trip down memory lane combined with his passion for the Carnival Monday celebration of J'ouvert birthed this new track which invokes a spirit of freedom and no holds barred, full-spirited enjoyment in the 'dirty mas' festivities," the release said.
D' Chancellor, who originally hails from Marabella, South Trinidad shared that "Wajank" has been receiving positive feedback since its release due to its infectiousness and iron-filled instrumental.
He also said that although from a young age he was influenced mainly by Reggae and Dancehall music and primarily sang those genres at the start of his professional music career, he quickly re-discovered his love for creating and performing Soca. He credits his mother (who actually helped him to pen his first song for a primary school Calypso competition) as his main motivation for pursuing his passion for the indigenous music of his homeland.
According to the release, some of D' Chancellor's past performance highlights include appearances at Carib Fever, the 9th Annual New Jersey Reggae Fest, "Undercover Promotions" J'ouvert Band launching  as well as opening for several top industry acts such as: Machel Montano, Patrice Roberts, Benjai, Beenie Man, Beres Hammond, Buju Banton and Rick Ross.
Most notably, the "Wajank" singer had the pleasure of working with former Groovy Soca Monarch Kerwin Dubois after winning his 'Pressure Cooker Competition' with the single "Heat".
D' Chancellor has high hopes for "Wajank's" success during the Carnival 2017 season and aspires to continually expand his fan base, build a massive presence for himself and his music, have a very successful career and leave his mark on Soca industry.
Fans can check out "Wajank'"on YouTube and follow D' Chancellor on social media via: Facebook: @IAMDChancellorMusic, Twitter: @iamdchancellor and Instagram: dchancellormusic
For bookings and more information contact: keston.harris@gmail.com.
Around the Web