While she only made her debut as a model just over a year ago, 18-year-old Ambika Ramraj has wasted no time in taking ownership of which ever stage she steps out on.
"From the minute I could put on heels [her mother's] and walk [during her nursery school years] I was always passionate about modelling," Ambika shared in a recent interview.
Her mom on observing her modelling around the house always playfully encouraged her by clapping though she didn't think Ambika would someday pursue it as a career.
Throughout the years as she grew, she was often glued to the television watching Project Runway or America's Next Top Model.
Sometime in 2015 Ambika was approached by the owner of La Face Model Management, Ryan Seecharran but didn't take up his offer until the following year on the July 3, when she made her debut for a promotional show 'What's In' at the Giftland Mall.
"The first time I was about to get up on stage, I was nervous. I was backstage but I knew I couldn't be nervous or else it would have shown once I stepped out so I let it go and I was good," she said.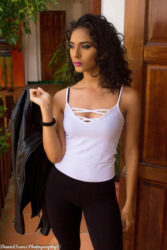 But it does not always work out as planned and Ambika said, "I learnt that even when there's a mistake, you need to make it look like it's not a mistake."
Since last July, she's worked the catwalk for Style Mission at the Pegasus Hotel in September, RED by Isaiah Luther Designs at the Cara Lodge Hotel in September, and Guyana Fashion Week 7 at Pegasus in November.
"During my experience with Guyana Fashion Week, my confidence was boosted, it helped me to want to be the best version of me. It bettered how I acted and how I dressed," she said to The Scene.
According to the young woman, the best part about modelling for her is being able to wear the designer piece and having to fit the persona as she tries to portray the personality of those who might wear such a piece.
She is inspired by Creative Director of the Guyana Fashion Week Richard Young.
Asked to name a person, dead or living, she would have liked to meet, Ambika named Princess Diana. "She died before I was born, but when I learned of her and began to see more about her, I began to really admire the person she was, and the things she did, the way she spoke in her interviews, how she carried herself, the work she did for charities; she was truly nothing short of a great woman. If I could meet her now, I would thank her for being the person she was, and for having such a kind soul…"
Though she's supported by friends one hundred percent she is still to win over her family members who remain skeptical of her career and are still a bit "overprotective" of the young and upcoming model.
Ambika, who up to a few years ago was considered a tomboy since she participated in just about every sport, including football, rugby, cricket, table tennis, track and field at her old school Queen's College, said her favourite piece to wear is a gown and better yet if it comes in one of her favourite colours: pink, lime green, navy blue, white, black or aquamarine.
Though she's enjoying life as a model she admits that models are not given the required support they need and find it challenging sometimes to adapt to different cultures and personalities.
Currently Ambika is a second year sixth form student at School of the Nations. She said she may one day venture into Psychology, though modelling will always be a part of her. She hopes to someday take her passion to the Caribbean level as since she's just average height, 5'6", she's not sure if she'll make it internationally, but will go as far as life will allow her.
Her philosophy is that a candle doesn't lose its flame by lighting another candle. "When we give to someone, when we light them up, nothing is taken from us. Nothing," she said. "We just transfer a little light, a light joy, to another person. As a matter of fact, the other person isn't the only person being given something, but you of yourself are given more; you're given the happiness in knowing that you've probably made someone's day. In life we never know what another person is going through, so it's best to always be kind and try to make their day a little better… You never know how your actions may change their lives…"
Besides fashion shows Ambika has done a number of photoshoots for designers and stores and would have appeared in a commercial for Clairan's as well. She is currently looking forward to an upcoming show in February 'Be The One Fashion Show' and will be applying for a chance to model in the Wedding Expo.
Around the Web