I stayed away from the television last Friday. I knew seeing Donald Trump being sworn as the 45th President of the United States would have driven me up a wall even further as I already find his politics to be burdensome and aggravating.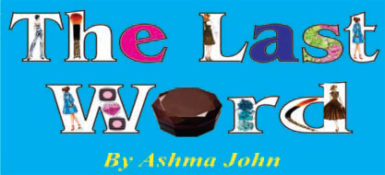 I understand that avoidance is a terrible strategy when it comes to moving negative mindsets as it obscures key positive details, however few they may be. My partner looked at the inauguration while I went about my chores. To my surprise, he shouted from the living room for me to come and see Melania's dress, insisting that he knew I would like it. I shrugged with disgust and ignored him. He knew I wasn't in the mood for any of it.
It turns out I did like the ensemble, which I saw in pictures on my Facebook timeline. Melania looked spectacular.
Prior to viewing the dress I had chuckled to myself at the fact that my fashion-bland husband found nothing more of relevance to speak on about the inauguration ceremony. It wasn't like him. He seemed to be blinded by the optics coupled with some amount of disbelief that this was actually happening. And it seemed many people were. A hashtag, #freemelania, surfaced as members of the media zoomed in on her facial expressions chalking them up to discomfort and unhappiness.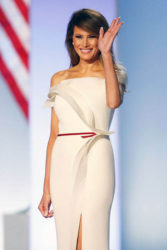 Events like these are grand photo ops to paint the narratives you like especially since we live in a pixel and meme-defined era. One thing that can be assessed for sure is the politics behind the clothes. As it is with most inaugurations, apart from the speech, the new First Lady's wardrobe is always the main focus as opposed to that of the incoming president's, which is a standard suit and bold tie.
While President Trump was said to have worn Brooks Brothers, an American  menswear brand as it is the usual go-to brand for American presidents, his wife also pledged her 'Made in America' support. Elegantly clad in a powder blue Jackie Kennedy-style dress and coat, Melania sported her husband's opponent's go-to designer during the presidential campaign. It was Ralph Lauren who openly threw his support behind Hillary Clinton and it was he who then said the country should embrace what is to come because America is now on show and must look its best. It was a style that was reminiscent of the past and America's integrity in that era.
At the inauguration ball, Melania wore a Herve Pierre white crepe dress with a seductive high slit. A complete and modern 360 from the conservative look she opted for at the swearing in. She ticked every single strategic box, earning the one-to-be-watched position.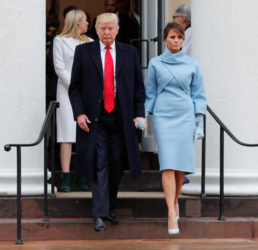 Like Michelle Obama, Melania, was dressed by a non-native independent designer who has made America home and a home-grown namesake American heritage brand. Though they may be out of the price box for most Americans, one thing is for sure Made in America and America first were definitely trumped up to being a legacy they wish to leave behind. Though these events draw significant brand awareness and exemplify the American Dream, it's the transference of the optics into economic realness that has to be explored.
Days prior to the inauguration, President Trump met LVMH (the world leader in luxury) Chief Executive Bernard Arnault. Following  the meeting, Arnault emphasised the significance of their facility in the USA that deals with  certain aspects of production  and indicated a certain level of keenness of more like it come in the near future particularly in Texas or North Carolina areas.
These are the said states where President Trump pledged to create a multitude of manufacturing jobs. Coincidence or not, as is everything this is strategic.  My bitterness for Trump aside, job creation is always welcomed, the probability of USA becoming a manufacturing hub for luxury is up for debate as luxury goods have a higher level of integrity dependent on where they are made. That relationship of integrity and craftsmanship has always significantly been married to Europe. I may have missed the live inauguration but we can't argue that the optics aren't making a crystal clear statement. It's a new America!
http://instagram.com/theonlinerunway