Today in London, the work of Cy Grant, the late Guyanese actor, musician, writer and poet will be on display through different performances at a free event where workshops, talks, family activities, puppetry, poetry and films will be featured.  The event is themed 'Navigating the Dreams of an Icon: Cy Grant Project Finale' and press release noted that Grant's extensive career spanned acting, song writing, human rights activism and the Royal Air Force was being celebrated at London Metropolitan Archives (LMA) during this month.
Today's finale event, led by the Cy Grant Trust, marks the launch of the Cy Grant Archive, which will be fully accessible to the public for the first time.
Grant died on February 13, 2010 at the age of 90, but in the 1950s, he became the first black person to be featured regularly on television in the United Kingdom mostly due to his appearances on the BBC current affairs show "Tonight".
In 2014, Grant's family deposited the Cy Grant Archive at LMA and a year later, Cy Grant Trust, LMA and Windrush Foundation formed a partnership to oversee the archive project, which builds on a growing number of collections deposited at LMA by the Black African Caribbean community. The project, which began in 2016, has to date attracted volunteers who have dedicated over 350 hours of their time. The launch of an education teaching pack will mark the end of the project in May 2017, the press release said.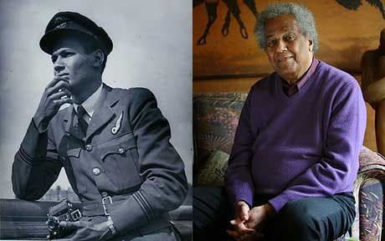 The project began in April 2016 when cataloguing commenced on the Cy Grant Archive. Since then, the aim has been to connect Cy Grant's life to all generations through a series of events. These have included talks and screenings at Black Cultural Archives, The British Film Institute and LMA.
A touring exhibition which displays images from the archive will be available to view at LMA from today until early March. The exhibition first opened at Marcus Garvey Library, Tottenham in November 2016, moving to Hornsey Library in Hornsey in January 2017. Full descriptions to the Cy Grant Archive will be available to view on LMA's online catalogue. The catalogue enables individuals to order and consult original items at LMA.
The City of London Corporation, which owns and manages LMA, invests £80 million every year in heritage and cultural activities of all kinds. It is the UK's largest funder of culture after the government, the BBC, and the Heritage Lottery Fund, the release stated.
Around the Web