Reggae/Dancehall artiste Javes 'Dan Jah V' Cox recently released his latest single "Fit My Profile".
"'Fit My Profile' is a slow dancehall and was actually written because a personal experience. I come up with it because of this girl, she loves me," said a blushing Javes speaking of his girlfriend.
"'Fit My Profile,' everybody just gravitates to it, everybody just loves it and downloading it like crazy," he told The Scene.
The song since its release has been playing in Guyana, Jamaica, Zimbabwe and around Europe.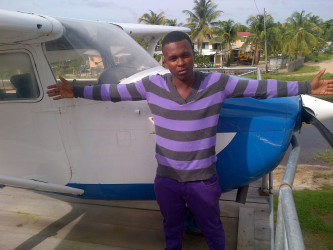 "Fit My Profile" was recorded by AJ Studios and was released February 28.
The song was aired on SunCity Radio in Jamaica and Cox is currently working on it being aired here as well.
According to the artiste, although there are negative persons who believe he won't keep making it, he still does all the time and looks forward to an upcoming concert in China Town, Jamaica on April 28. He is expected to also be touring Europe sometime after with DJ Kali Bumba, Selector Fox, Jabari and Unruly Kelly out of Jamaica.
On the list for release are "Better Days" featuring Lil Million and "Woman Meh Love Yuh" set to be released later this month.
The singer has since recorded: "Relationship Shaky," "Nuff Money," "Live Meh Life" featuring Curtly Lake, "Missing You" featuring Eze Prince and "City Life".
Javes is currently attached to the Big Mansion Records/ Jaz9nine Music in Jamaica.
"Fit My Profile" and his other songs can be found at YouTube, Amazon, Facebook, fimimp3.com, Twitter, Instagram, Viva, Paly Store, iTune and Xbox.
Around the Web