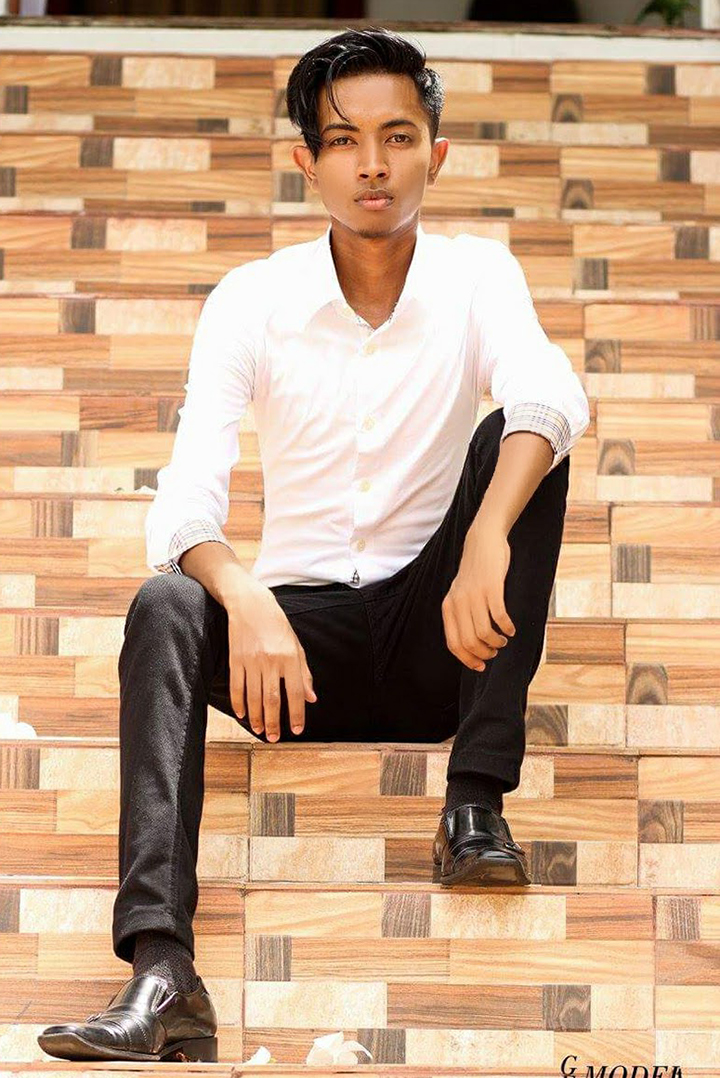 Parmanand 'Jay' Ramcharran is trending in Guyana's modeling circles; it is unlikely that there is a renowned modeling agency or designer in Guyana who has never heard of him.
But it has not always been that way even though such a polished physique being strutted on the catwalk makes it unbelievable that this young man was once labeled "unfit" for modeling.
The first time The Scene saw Jay he was rocking the stage in such elegance at the Guyana Fashion Week (GFW) at the Pegasus Hotel, that no other model looked more confident. During a recent interview Jay-as he prefers to be called- gave us the 411 (all the facts) on his life before becoming a model and all that it took to get him here.
"I was a nerd in school and was termed the 'business geek'. I was invisible in school except for the kids who picked on me. But wanting to stand out and have a sense of fashion I decided that when I finished secondary school I'd do modelling. I told my friends and they laughed at me saying it was impossible because I'm short and [too skinny]," Jay recalled.
He started modelling shortly after leaving school but for small agencies that flopped. He later decided that he wanted to be a part of GFW. Auditioning for GFW is no small thing as this fashion extravaganza is not only labelled the biggest in Guyana but one of the biggest in the Caribbean and the second longest running Caribbean wide so not everyone gets in; only the best.
Leaving his mother and two siblings in Williamsburg, Corentyne, Berbice, Jay set out for Georgetown. At the audition he was ridiculed by some of the other models, who not only had the required height but physique as well. He was told by them to just go home since they were sure he wouldn't make it. Paying them no mind he auditioned and was the very first model to be eliminated that day. Walking out he passed those very models with 'I told you so' smirks on their faces.
Feeling defeated Jay was prepared to go home but Keron Noble (one of the GFW committee members) invited him to attend the rehearsals. Jay, who had never wanted something so bad in his life before, kept going and trying and learning and perfecting until he found himself among some of Guyana's top models strutting the GFW stage at the Arthur Chung Conference Centre for the celebration of the golden jubilee.
Jay is so passionate about what he does that the second he hears of an audition he shows; some never happen.
The 20-year-old, who celebrated his birthday this past Monday is now one of Guyana's top models and one of the most preferred choices at that. He currently works as a model full time. Most shows are on weekends and sometimes his agenda is packed with five shows in a day. He's also a brand ambassador for Vintage Clothing by Alexander DaSilva.
Drive
According to the model, it is punctuality, discipline and a drive for wanting to stand out that has gotten him where he is today. He added that although persons would have tried discouraging him he chose to block negativity and follow his dreams.
"The best part of modelling is stepping out on the runway and having that adrenaline rush. I get to be in a different place at that time," he shared.
He's inspired by model Cameron Keesling who moved from living in a trailer park to modelling world class designs such as Georgio Armani and Calvin Klein.
"Since I've started modelling I've had a lot of encouragement from persons within the industry especially from Delicia Archer [who modelled a few of Kanye West's pieces]. She always said to do what makes me happy," Jay said.
He added that he knew what it was to have little or no self-confidence and contemplated committing suicide in the past. He's from a single-parent home where his mother struggled to make ends meet. His father, who left for good, would steer clear of him and his siblings even when he passed them on the road. Because of his newfound passion he now rocks confidence in himself and what he does.
Jay is a member and one of the operations advisors of Prevention of Teenage Suicide (POTS), which is spearheaded by Lisa Punch, and he said being a part of this movement has impacted his life and the lives of others he came in contact with who shared similar experiences.
One such example was a young man who wanting to be a model but being turned down by different modelling agencies in Guyana was on the brink of committing suicide, Jay said he shared his experience and encouraged him to be disciplined and persevere no matter what anyone said. Jay said the same young man has since migrated to the US and is now modelling for an agency there.
"What I'd like to tell [aspiring] models is, just be yourself. Don't let anything negative people tell you affect you and as long as you have that passion and discipline, you'll find your way," Jay said.
Challenges
As good as it has been, Jay has faced different challenges. One of the major one is not being paid on time or not being paid enough. He recalled of one time when he and other colleagues waited as long as three months before they were paid. This he said can be dealt with if models are paid upfront; at least half. This, he added, would offset expenses models would have because designers may only want you to model a top and you would still need footwear and pants to go with whatever designer piece you are wearing.
Jay currently works with Sameer Tailoring Establishment. Recently, as of two weeks ago he started creating his own line of bowties called 'Jayties'. This, he said, came about after looking for bowties for himself and finding them too plain. "My bowties are for all sorts of events [casual and formal]. You can wear them just as plain on your neck, on shirts or for the ladies, on your hair," Jay said.
"Five to ten years from now I picture myself having my own company with my line of bowties. I want also to be a bigger role model to youngsters, to help them and empower them through my story."
He enjoys reading mystery novels, watching horror movies and fixing jigsaw puzzles.
Concerning pet peeves he has a few: "I don't like when you're waiting on someone's response maybe in a text message form and they only remember you when they need something from you. Another thing I don't like is when people belittle others."
Jay has since modelled in numerous fashion shows and appeared in commercials for Fashion Forward, Bear Beer and New Thriving.
He's set for two upcoming shows: Wedding Expo and Women in Business Expo.
Jay can be reached on Instagram, Facebook and Twitter.
Around the Web