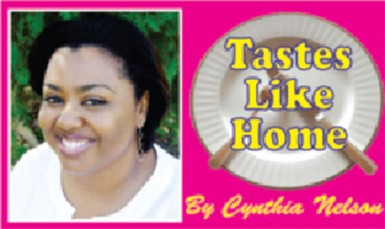 Hi Everyone,
The tomato season here in Barbados is short this year due to a prolonged dry spell, but I read recently that Guyana is enjoying a bounty of produce at excellent prices; more on that later. On previous occasions, I have encouraged and shared with you things to make and ways to preserve the bounty so that you can enjoy it all year long and cut down on your food bill. Well today, I want to add the use of green tomatoes to that trove of info.
Most people do not deliberately set out to buy green tomatoes, unless they are planning to use them for a specific purpose, or, like me, you purchase tomatoes in various stages so that they all do not ripen at once. We are all familiar with the many ways in which we can use and preserve ripe tomatoes – sauces, condiments, dried, stewed, steamed, roasted, frozen and eaten raw in salads. What about the green tomatoes? Have you ever tried eating them?
One of the popular ways green tomatoes are cooked in the Southern United States is battered and deep-fried. I tried it a couple of times; it's not my thing, but it could be yours. Sliced thick, the tomatoes are seasoned, dipped in flour, beaten eggs, and breadcrumbs and then fried. Some people use a combination of flour and cornmeal with buttermilk instead of eggs.
I've been eating green tomatoes for several years now, and each season, I look forward to replenishing my stock of salsa verde and achar. A morning breakfast of green tomato choka with roti is a satisfying meal.
To make the green tomato choka – roast (in the oven or over an open fire) the tomatoes, chop up coarsely and fry (sauté) with finely minced onions, garlic and hot pepper. Season the choka with salt to taste and if necessary, add a little sugar to balance the tartness. Making green tomato achar is easy – first, make a paste of onions, garlic and hot peppers, mix it with amchar masala or whatever combination of spice mix you use for achar. Heat some oil in a pan, cook the masala until it is fragrant and the oil seeps through. Add chopped green tomatoes and cook until soft, seasoning with salt. If neither of these two ideas appeals to you, I think this one will – green tomato salsa verde.
Salsa verde refers to a group of fresh green sauces. There is a European style, made and used in Italy, Germany, Spain and France. This version is primarily made of flat leaf parsley, capers, anchovies, lemon zest, vinegar and olive oil. Variations include mint, basil, and mustard.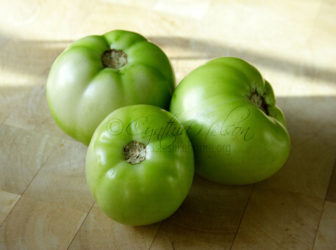 The version I am sharing today borrows more from the Mexican type of salsa verde. Mexican salsa verde is made with tomatillos. Tomatillos are known as husk tomatoes because they come with a light, thin papery skin. They look like tomatoes, are bright green in colour and very tart. There are two ways in which salsa verde is made in Mexico – fresh and cooked. With the fresh version – the raw ingredients are pounded/ground together in a molcajete (type or mortar and pestle) or in a blender/food processor. Cooked, the ingredients are added to a pot with just enough water to cover it; the ingredients are cooked until soft but not mushy. Everything (including the cooking liquid) is added to a blender and pureed. The mixture is then cooked again in very hot oil, simmered, for 10 – 20 minutes, and cooled before bottling or serving.
I made the fresh version using green tomatoes. If you like sour, you are definitely going to enjoy this sauce. The uses are many. It is great as a dip, and goes well with eggs cooked sunny side-up, poached or over easy. It's ready-made for fried and grilled seafood. Plantain chips, chicken foot, black pudding, cassava ball, and egg ball – oh yeah! This sauce pairs well with grilled chicken and even steak (think Argentinian chimichurri). Try it on grilled fresh sausages! I also eat it alongside coconut chutney and baigan choka. Stir a couple spoonsful into your dal and feel yourself swoon. Seriously, try this fresh sauce.
Before I get to the recipe, I want to say that I had mixed feelings as I read Stabroek Business' reporting last week of the prolonged vegetable glut on the local market. Yay for reasonably priced locally grown produce, heartbreak and sadness for the farmers for the loss of income and earnings, to reinvest in their business and to live. And utter frustration at the agro-processing sector's failure 'to keep pace with the expansion of the farming sector.' I do not know when in this region (because it is not only Guyana) we will get our act together about agriculture, agro-processing and food security, all important links to agricultural value chain. When?
Green Tomato Salsa Verde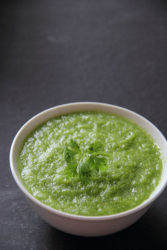 Ingredients
1 ½ pounds green tomatoes, roughly chopped
¼ cup chopped fresh coriander/cilantro (sub: 2 tablespoons chopped chadon beni)
2 clove garlic, finely chopped
Chopped green hot peppers
1 teaspoon fresh lime/lemon juice
2 – 3 tablespoons water
Salt to taste
Directions
Add all the ingredients (except the salt) and puree. Add salt to taste and puree to mix.
Transfer to a clean bottle/jar. Let sit at room temperature for ½ hour, then secure with an airtight lid and refrigerate. The sauce can last for 2 – 3 weeks as long as only clean utensils are used to access the sauce. I use a bottle that makes it easy to shake and pour the sauce.
Cynthia
cynthia@tasteslikehome.org
www.tastelikehome.org
Around the Web